From Hamilton Tenants Solidarity Network
On the morning of Monday November 19, striking tenants from the Stoney Creek Towers assembled and filed into the office at 40 Grandville to pay back their rental arrears, effectively bringing an end to their seven month rent strike. Or at the very least… putting it on pause. Since May 1, when tenants first began withholding rent, they have made two demands of their landlord, InterRent Real Estate Investment Trust (REIT): 1) Drop the proposed Above Guideline [rent] Increase (AGI); and 2) Make long-standing repairs to tenants' units.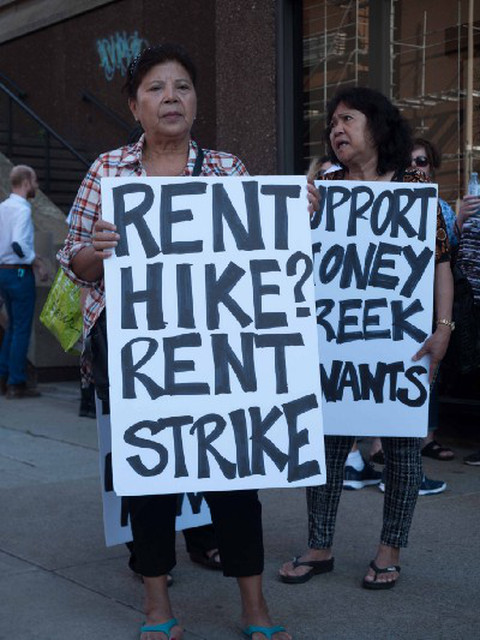 InterRent's proposed AGI, when combined with the standard annual Ontario guideline increases, would total nearly 10% over two years – an additional $70 or $80 per month for most tenants. For working-class residents already struggling to survive on minimum wage, social assistance, disability benefits or pensions, this increase is simply unaffordable. It would foreseeably lead to them being priced out of their homes and displaced from the neighbourhood they love. In their internal investor reports, InterRent callously refers to this process as 'repositioning'. Instead of even bothering to feign sympathy for their tenants' concerns, InterRent has done their best to ignore the strike altogether, opting instead to wait out the conflict until their AGI application could be heard at the Landlord and Tenant Board (LTB).
This hearing took place on November 1 and 2, 2018. InterRent and their entourage of lawyers and paralegals were confident of an easy victory. And for good reason. The LTB is widely understood by tenants to be a rubber-stamping facility for landlord applications, and particularly so when it comes to AGIs. The creation of the AGI loophole, through the ironically-named Tenant Protection Act in 1997, was a gift to the landlord industry by Ontario's conservative Premier Mike Harris. It has been a central cornerstone of REITs' insatiable pursuit of profits ever since. Unfortunately for InterRent and their lawyers, the hearing was not concluded by the end of the assigned two-day period, and has now been rescheduled for early 2019.
Rather than wait until then, tenants reached out to invite the landlord into direct negotiations. To this end, the Stoney Creek Towers Tenant Committee has submitted what they consider to be a generous proposal, outlining an initial offer as the basis for the start of negotiations. Tenants have elected two delegates from each of the four buildings that make up the Stoney Creek Towers (50 Violet Dr, 77 Delawana Dr, 11 & 40 Grandville Ave) and provided them with direction and a mandate to participate in negotiations with the landlord. They have reached out to non-participants of the rent strike and have received assurances that they would be willing to abide by the terms of a negotiated settlement. Finally, as an act of good faith, and in an effort to help facilitate an atmosphere for these negotiations to take place, tenants decided to pay back the rent arrears that they currently owe.
At the time of writing, InterRent/CLV has yet to respond to the tenants' offer. The only indication that they received the offer at all came from a recent article in The Spectator, in which their chief public relations executive, Roseanne McDonald-Holtmann, indicated as much. She went on to state that CLV executives "are currently considering a response to the proposed settlement offer," before indicating that their preference would still be to resolve matters at the LTB.
This is not particularly surprising. For months, the landlord refused to acknowledge the rent strike was even happening. In August, when tenants travelled to InterRent's head office in Ottawa to deliver a letter outlining their requests, CEO Mike McGahan refused to meet with them or accept their letter, though he was clearly visible inside the office. Instead, he locked the doors, called the police, and left tenants (including seniors and young children) waiting outside in the hot sun for hours.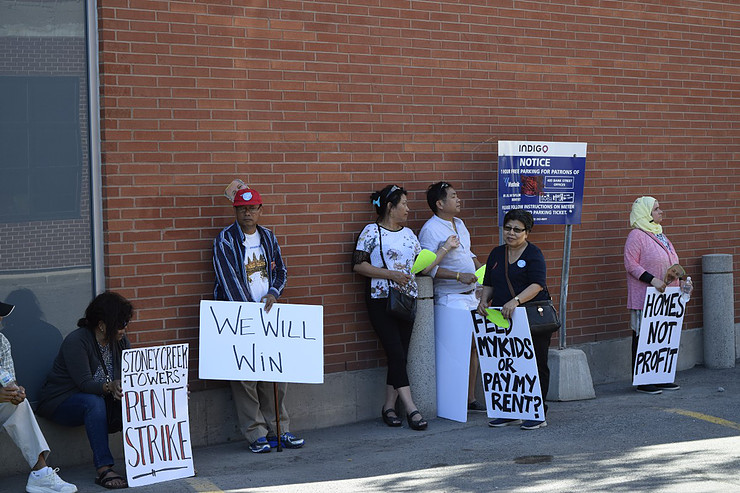 As tenants continue to wait for the courtesy of a formal response from the shot-callers in Ottawa, relations between the tenants and InterRent's in-house property management company, CLV Group, have continued to worsen. While doing their best to downplay the strike publicly, the landlord has been cracking down on tenant organizing in the buildings. In September, CLV introduced a bogus 'No Loitering' policy, telling tenants they were no longer allowed to use the lobbies or hallways of their buildings for anything other than entry and exit. They've hired private security to patrol the hallways and harass tenants when they put up posters or knock on doors to share information with their neighbours. They've brought in contractors to install cameras and microphones to record tenant meetings. They regularly show up to these meetings and threaten to call the police to have tenants and their supporters arrested. They even went so far as to build walls to physically block access to the lobby rooms where tenants were holding these meetings. The landlord has also issued 'No Trespass' notices to members of the Hamilton Tenants Solidarity Network (HTSN), in a largely unsuccessful attempt to restrict our ability to support tenant organizers.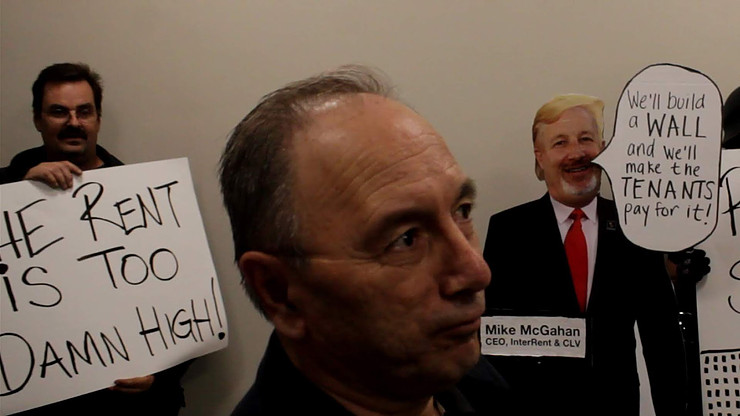 On Thursday November 28th, two well-liked and long-standing tenants were told to remove all Christmas decorations from their balconies. This rather heartless demand was made all the more ridiculous, given that this friendly competition has been an annual tradition of these two neighbours for the past 25 years, including the past three years that InterRent has owned the buildings.This was only the latest example of the landlord failing to respect their tenants. CLV regularly takes advantage of immigrant tenants who do not speak English well, ignoring their requests for repairs, issuing bogus eviction notices, and attempting to gouge them by charging extra for services already included in their rent. The company treats its cleaning and maintenance staff terribly, constantly changing their hours, expecting them to do the work of two or three people, and paying them very little.
The local and regional property managers, Oliver Filip and Selim Dedej, have been suffering from laughable delusions of grandeur of late. They've been making the rounds of the four buildings, singling out rent strikers for harassment, attempting to isolate them by spreading rumours to other tenants, and generally consorting themselves with a smugness that reeks of an unearned sense of accomplishment. Oliver, in particular, has allegedly told more junior staff that the landlord has "won" the strike… in no small part due to his own actions. Easy there, Oliver.
We can't help but remember a similar situation back in July, when tenants made the prudent decision to pay one month's rent as part of a broader tactical realignment of the strike. At the time, Oliver could be seen enthusiastically fist-pumping the air in the office, and handing out high fives to anyone who would take one. And yet the following month, August, was arguably the highest point of the strike to date. InterRent would be wise to not underestimate the resolve of their tenants, or mistake their recent concessions as defeat. This struggle is by no means over, and is simply entering a new phase. The direction that this next phase takes, in part, will be based on the decisions taken by the landlord in the coming days and weeks.
Despite the recent climate of repression, the tenant committee is stronger than ever. People who have lived in close proximity to each other for years, but didn't know one another are now good friends. Tenants are organized, meet regularly, and have each other's backs. They have educated each other about their legal rights as tenants and, not least, the limitations of these rights. Due to the pressure of the rent strike, many residents have had repairs made to their units: new kitchens, new bathrooms, new appliances, patched walls and floors, new paint, pest treatment, etc. Due to the pressure of the rent strike, windows and balcony doors have been replaced ahead of schedule and people who suffered cold drafts in previous winters no longer need to rely on space heaters and their ovens to keep warm. Due to the landlord's harassment and blatant contravention of the Residential Tenancies Act, tenants have submitted an application seeking a reduction in their monthly rents, a formal validation of their rights to organize, and a substantial fine against their landlord.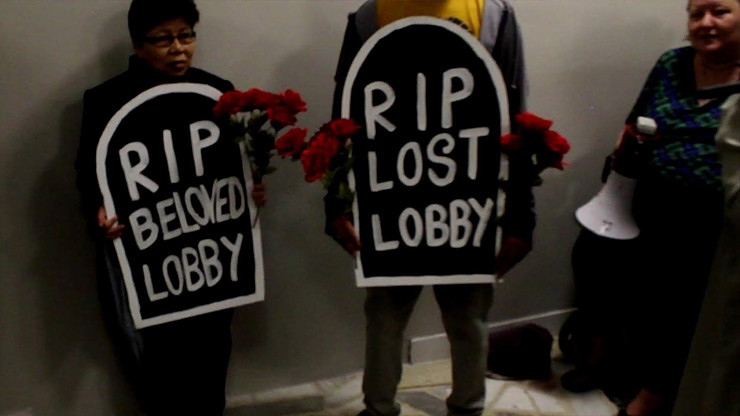 Stoney Creek Towers tenants are incredibly thankful for all of the support given to them by other working-class people across Hamilton and beyond. Thank you to everyone who has donated to the East Hamilton Rent Strike Defense Fund, and to all those who have organized fundraisers to support the tenants. Thank you to everyone who has come to rallies outside of the LTB and social events and demonstrations in Stoney Creek.Thank you to everyone who has been following the campaign in the news and sharing updates on social media. Stoney Creek Towers tenants know that their struggle is being watched by working-class people across the city and the province, and they have every intention of pushing forward. Tenants have made it clear to InterRent that they fully reserve the right to resume their strike if negotiations fail, and are also considering a variety of other tactics in order to escalate pressure on their landlord in the event that they refuse to come to the table. As always, members of HTSN will be there to support them in whatever direction they choose to take.
At this juncture in the road, there's still critical ways that you can support the struggle. Most importantly, please show some solidarity with tenants from the Stoney Creek Towers by calling their landlord, InterRent, and demanding that they come to the table.