After a Winter of Blockades: Updates on criminal charges from #ShutDownCanada
8.5 x 11 pdf poster file for printing or sharing!
It's been almost a year since the wave of blockades in solidarity with Wet'suwet'en land defenders known as Shut Down Canada. Since then, there has been no shortage of urgent issues, and public attention has moved on. However, for both those on the front lines and those still facing charges,  moving on has not been an option.
There are currently at least sixty people still facing serious criminal charges from the raids on Wet'suwet'en territory and the solidarity movement. These actions involved thousands of people in every province of the country, and it's impossible to describe them briefly, but here are a few aspects:
In January 2020, solidarity actions began as the RCMP prepared their latest offensive against the decade-long reclamation of Wet'suwet'en territory. When the raid started in earnest in early February, Mohawks at Tyendinaga launched a rail blockade shutting down traffic between Toronto, Ottawa, and Montreal. Rail disruption immediately became the preferred tactic for the movement and in the coming weeks, long-term, Indigenous-led blockades occurred as well in Kahnawake, Listuguj, Six Nations and New Hazelton. Shorter (and sometimes repeat) blockades happened in Halifax, Toronto, Victoria, Vancouver, Magnetewan, Coquitlam, Hamilton, Morris, Saint-Pascal, Edmonton, Saint-Lambert, Kamloops, Saskatoon, Elsipogtog, Saguenay, and across the border in Washington state. Demonstrations and road blockades occurred in many places as well.
From that massive mobilization, twenty-eight people from Tyendinaga Mohawk territory are still fighting charges, following the OPP's attack on their community. The next largest group of defendants is from a blockade outside of Sherbrooke, Quebec, where some fifteen people are waiting for trial. In Hamilton, Ontario, six people are each facing four counts of indictable mischief for a 24 hour rail blockade. In the Bas-Saint-Laurent, one person stil has charges from a rail disruption and two people in Montreal have mischief charges for alleged graffiti.
During the previous winter, in January 2019, there was also a violent RCMP raid on Wet'suwet'en territory. Although the solidarity mobilization was smaller, it still saw significant demos, occupations, and blockades across the country, and these too were met with repression.
Two people who were present at the blockades on Wet'suwet'en territory during the 2019 raid still have assault police charges. In Hamilton, one person is charged for alleged vandalism at an RCMP detachment. In Montreal, six people are still dealing with charges connected to the blockade of the Jacques Cartier bridge.
Nearly a hundred and fifty people were arrested during these two years of struggle. Many were released without charge, others simply got tickets. Some of the criminal charges laid have resolved. For instance this fall, twelve people charged from a rail blockade in Toronto saw their charges withdrawn, two in Vancouver received discharges, and all charges were dropped against those arrested on Wet'suwet'en territory during the raid last February (though the RCMP report their investigation is ongoing).
That more charges are resolving is certainly good news, however we also need to be cautious. The legal system drops charges against some in order to isolate and delegtimize others. Even as we celebrate, we need to remember that it's likely some of those still charged will end up in prison for moments of struggle we all shared.
Everyone does not face the legal system on an equal footing. It is deeply racist and colonial, and Indigenous defendants are more likely to be found guilty and to receive harsher sentences. As well, those with criminal records, especially ones stemming from their political involvement, will also receive worse treatment and are more likely to do prison time.
The movement last winter was incredibly powerful, and the struggle isn't over. On Wet'suwet'en territory, work on the pipeline hasn't stopped for the pandemic, and land defenders on the front lines haven't stopped resisting. This is true for many other Indigenous peoples across Canada — from Mi'kma'ki to Six Nations to Secwempec territory, this has been a landmark year for Indigenous resistance and assertions of sovereignty. These currents will continue overlapping with resistance to industrial expansion, creating new possibilities and sites of resistance. Nothing stopped, and there will be other times when we will need to shut down Canada again.
All successful movements face repression and have prisoners. More than avoiding repression, what matters is how we deal with it. We need to always be finding ways to show those targeted they are not alone — this makes it easier for them to get through it with strength and integrity. As people move through the justice system, displays of solidarity and practical support make a real difference in the outcome. We need to show that those who are brave and take risks will be supported if we want to be brave together again in the future and see our movements grow.
We will continue sharing updates on North Shore Counter-Info with details about the changing legal situation, and will also amplify fundraising efforts and specific asks from defendants for solidarity or support. On North Shore, they will be under the tag "Blockade Defense" (north-shore.info/tag/blockade-defense) and on Twitter under the hashtag #BlockadeDefense.
 
If we are forgetting anyone or you have any comments, get in touch in English or French at blockadedefense@riseup.net. The pgp key is available at keys.openpgp.org.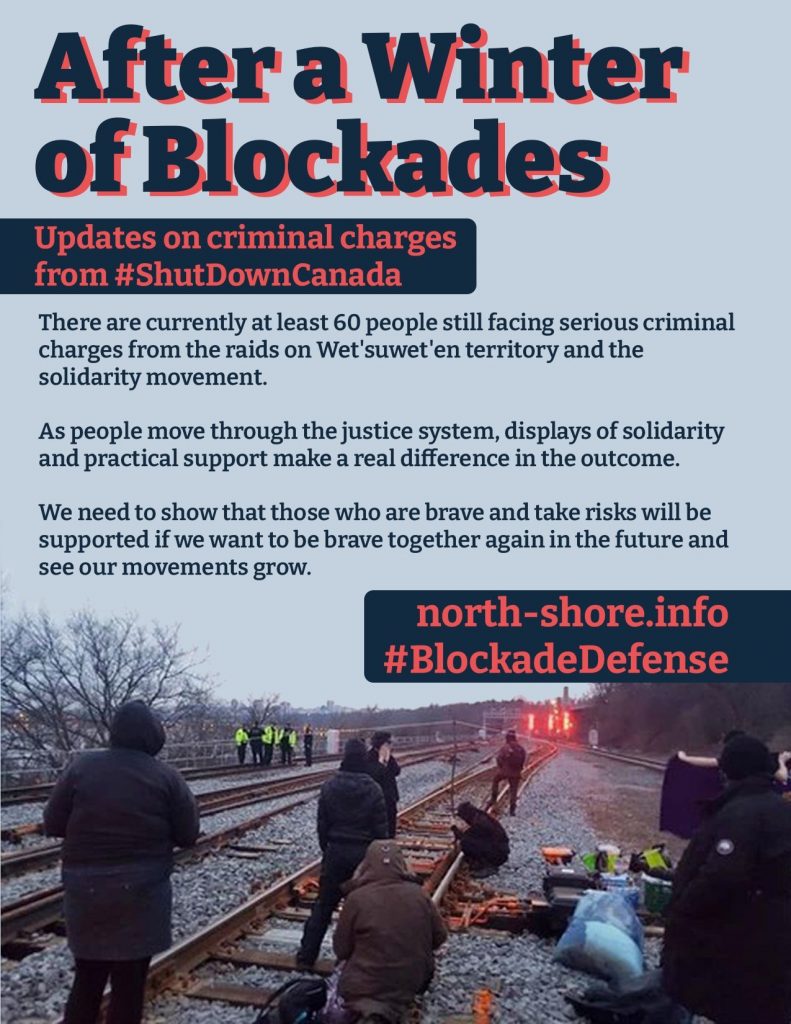 Poster en format PDF 8.5 x 11 à imprimer et à partager
Presque un an est passé depuis la vague de blocages en solidarité avec les défenseurs de la terre wet'suwet'en. Par la suite, de nombreuses questions urgentes ont fait que l'attention du public est passé à autre chose. Toutefois, pour celleux en première ligne aussi bien que pour celleux avec des accusations en justice, il n'y a aucune possibilité de passer à autre chose.
En ce moment, au moins soixante personnes font encore face à de graves accusations criminelles en lien avec les descentes policières dans le territoire wet'suwet'en ainsi qu'avec le mouvement de solidarité. Ces actions ont impliqué des milliers de personnes dans toutes les provinces du pays, aussi il est impossible d'en faire rapidement le portrait, mais voici quelques aspects :
En janvier 2020, tandis que la GRC préparait leur nouvelle offensive contre la réoccupation du territoire wet'suwet'en qui dure depuis plus d'une décennie, les actions solidaires ont commencé. Quand les flics sont descendus pour de vrai dans les premiers jours de février, les Mohawks de Tyendinaga ont lancé un blocage ferroviaire qui a paralysé la circulation entre Toronto, Ottawa et Montréal. Perturber la circulation ferroviaire est vite devenue la tactique privilégiée du mouvement et les prochaines semaines ont vu des blocages à long terme menés par des communautés autochtones à Kahnawake, Listuguj, Six Nations et New Hazelton. Des blocages de moindre durée ont eu lieu (souvent à répétition) à Halifax, Toronto, Victoria, Vancouver, Magnetewan, Coquitlam, Hamilton, Morris, Saint-Pascal, Edmonton, Saint-Lambert, Kamloops, Saskatoon, Elsipogtog, Saguenay et de l'autre côté de la frontière dans l'État du Washington. Il y a également eu des manifestations et des blocages routiers en de nombreux endroits.
À l'issue de cette mobilisation massive, vingt-huit personnes du territoire Mohawk de Tyendinaga se battent contre des accusations suite à l'attaque du PPO sur leur communauté. Le deuxième groupe en importance c'est les quinze personnes accusées qui attendent leur procès en rapport avec un blocage près de Sherbrooke, Québec. À Hamilton en Ontario, six personnes font face chacune à quatre chefs d'accusations de méfait pour un blocage ferroviaire de vingt-quatre heures. Dans le Bas-Saint-Laurent, une personne est encore inculpée après une perturbation ferroviaire et à Montréal il y a deux personnes accusées de méfait pour des graffitis.
L'hiver précédent, en janvier 2019, il y a également eu un raid sur le territoire wet'suwet'en par la GRC. La mobilisation en solidarité était à échelle plus modeste, mais il y a eu des manifs, des occupations et des blocages importants un peu partout dans le pays, qui ont également vu de la répression.
Deux personnes présentes aux barricades sur le territoire wet'suwet'en lors du raid sont encore accusées de voie de fait sur la police. À Hamilton, une personne est inculpée pour des dégradations d'un poste de la GRC. À Montréal, six personnes se battent encore contre des accusations de méfait en lien avec le blocage du pont Jacques Cartier.
Il y a eu presque cent-cinquante arrestations durant ces deux années de lutte. Beaucoup ont eu pour résultat des remises en liberté sans inculpation. D'autres des amendes. Certaines des poursuites criminelles se sont déjà résolues. Par exemple, en automne 2020, le procureur a retiré les accusations contre douze personnes en relation avec un blocage ferroviaire à Toronto et deux autres à Vancouver ont eu des absolutions. En outre, toutes les charges contres les personnes présentes sur le territoire au moment du raid de février dernier ont été abandonnées (mais la GRC a laissé savoir que leur enquête se poursuit).
On ne peut que se réjouir que de plus en plus d'affaires se résolvent, mais il faut tout de même rester prudent. Le système judiciaire abandonne les accusations contre certaines personnes à fin d'isoler et de délégitimer d'autres. Il ne faut pas oublier que certain·e·s inculpé·e·s ont de fortes chances de finir en prison pour des moments de lutte auxquels nous avons toutes et tous participé·e·s.
Tout le monde ne fait pas face au système judiciaire sur un pas d'égalité. C'est un système profondément raciste et colonial, ce qui fait que les accusés autochtones ont plus de chances de se voir condamnés et de se voir imposer des peines lourdes. De même, les personnes avec des casiers judiciaires, surtout avec des condamnations en lien avec leur implication militante, risquent d'être traitées de façon autrement plus sévère et de finir en prison.
Le mouvement de l'hiver dernier était d'une puissance incroyable et la lutte n'est pas terminée. Sur le territoire wet'suwet'en, les travaux sur le pipeline continuent malgré la pandémie, tout comme la résistance des défenseurs de la terre en première ligne. C'est la même histoire chez d'autres peuples autochtones partout au Canada – de Mi'kma'ki au territoire Secwempec en passant par Six Nations, c'était une année charnière pour la résistance autochtone et les affirmations de souveraineté. Ces courants continueront de s'entremêler avec la résistance face à l'expansion industrielle, ce qui créera encore de nouvelles possibilités et des sites de résistance. Rien n'est arrêté et dans le futur nous aurons besoin de bloquer le Canada de nouveau.
Tout mouvement qui connaît du succès subira de la répression et aura des prisonniers. Ce qui est plus important que d'éviter la répression c'est la manière dont on y fait face. Nous devons toujours trouver des moyens de montrer aux personnes ciblées qu'elles ne sont pas seules, pour qu'elles puissent en venir à bout en se sentant fortes et en restant intègres. Des démonstrations de solidarité tout comme le soutien pratique font une immense différence quand les gens ont affaire à la justice. Il faut que les personnes courageuses qui prennent des risques aient de l'appui si nous voulons être courageux et courageuses ensemble encore et voir nos mouvements croître.
Nous continuerons de poster des mises à jour sur North Shore Counter-Info sur les affaires en cours et nous amplifierons les collectes de fonds et les appels au soutien concret ou à la solidarité de la part des accusé·e·s. Les mises à jour seront regroupées sous le tag « Blockade Defense » sur North Shore (north-shore.info/tag/blockade-defense) et sur Twitter sous le hashtag #BlockadeDefense.
Avons-nous oublié quelqu'un ou avez-vous des commentaires ? Contactez-nous en anglais ou en français à blockadedefense@riseup.net. La clé pgp est sur keys.openpgp.org.