From Canadian Tire Fire
This past week brought more sobering reminders of Canada's deeply-entrenched racism, as well as some inspiring moments of fiery resistance. As communities across the country continued to process the uncovering of a mass grave outside a Kamloops residential school, responses included the defacing, removal, and even toppling of colonial monuments. As activists in Kingston settle in at a ceremonial action at another John A Macdonald statue, demanding its removal, one can only hope this foreshadows the loss of many more statues of racists across so-called Canada.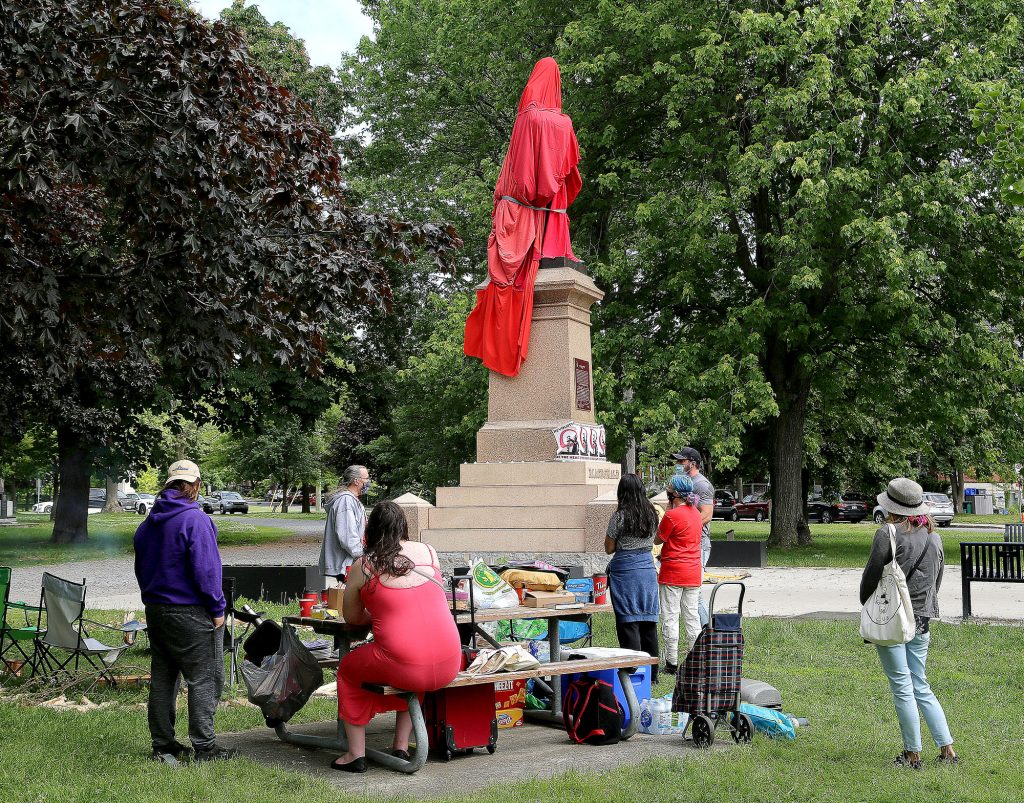 In more sad news, thousands mourned the deaths of four people murdered in an Islamophobic attack with vigils and allies across so-called Canada. This week we also mourn the death of Cory Cardinal, an artist, writer, and prison hunger strike organizer from Sturgeon Lake First Nation who had recently been released from Saskatoon Correctional Centre.
#215children Solidarity Actions Continue, and a Gift is Delivered to Land Back Lane
Solidarity actions continued this week in response to the discovery of 215 Indigenous children's bodies in a mass grave on the grounds of the former Kamloops Indian Residential School on May 27th. On June 5th, in so-called BC, over 50 bikers with the Sikh Riders of Canada Motorcycle Club rode from Abbotsford to Kamloops to express their solidarity with the Indigenous community there. As reported by News1130, Amarjit Dhadwar, one of the club members present for the action, said "there was no question that the Sikh community would stand with their Indigenous brothers and sisters in honouring the loss of children's lives" and that they would "continue to do what they can to support Indigenous people."
In Vancouver, the Arch Diocese was targeted, with orange shirts hung, a statue defaced, and posters put up in the windows. Some Indigenous people have called for the Pope to apologize for the Catholic Church's role in running many of the Residential Schools, and most importantly to release the records they hold of the schools they ran. The Pope recently issued a non-apology, referring to Indigenous people as the "daughters and sons of Canada", understandably causing a lot of angry responses.
In Ontario, there was a brief period during which the statue of Egerton Ryerson, an architect of the residential school system, was defaced but still standing. However on June 6th, it was swiftly toppled, beheaded, and dumped into a lake.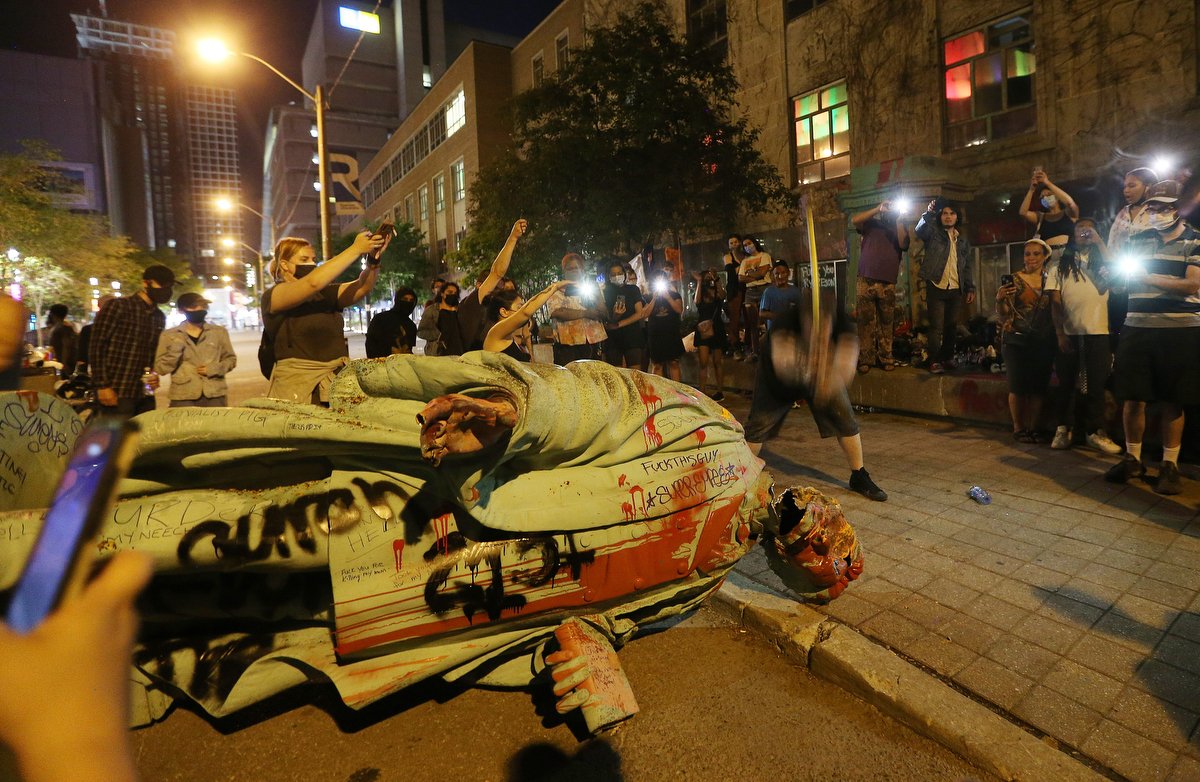 On the night of June 7th, the statue's head reappeared, but this time at #1492LandBackLane, an ongoing land defense frontline on Six Nations territory. It had been delivered there as a gift to the land defenders, and now sits on a pike at the top of a hill overlooking the occupied would-be construction site.
Skyler Williams, spokesperson for 1492 Land Back Lane, told the Toronto Star that "the Ryerson statue's head would stay at Land Back Lane unless another First Nation asks to borrow it," and that "it belongs to the movement." Also at Land Back Lane, three white pine saplings were planted in honour of the #215children.
Elsewhere, demos and vigils continued, with Toronto, Edmonton, St John, Kingston, London, Richmond, and many other cities seeing events. Meanwhile, the Sioux Valley Dakota Nation recently announced that they have also discovered the graves, some unmarked, of at least 104 Indigenous children on the grounds of the Brandon Indian Residential School in Manitoba. This news illustrates the sheer scale of deaths at Residential Schools, and the need for continued attention and solidarity actions as the Canadian government tries to push the issue under the rug.
#JusticeForJoyce March Held in Trois Rivières
On June 2nd, a crowd of thousands of people gathered in Trois Rivières, Quebec to mark the end of the coroner's inquest into the death of Joyce Echaquan in September 2020.
Joyce was an Atikamekw woman who filmed, on Facebook Live, nurses making racist comments toward her and mocking her while she lay restrained to her hospital bed in Joliette, Quebec. Joyce died later that day, alone, and her death caused a huge outpouring of support for her family and community, as well as outrage across the country regarding the racism and disparities in care experienced by Indigenous people in hospitals. Many marches and vigils were also held across the country in response to her death in the months leading up to the inquest.
You can find more information about solidarity events and updates by following the hashtag #JusticeForJoyce / JusticePourJoyce
1 Year Anniversary of Police Killing of Chantel Moore
June 4th marked the 1 year anniversary of the Edmundston police force shooting and killing of Chantel Moore, and on June 7th, the New Brunswick public prosecution services (NBPPS) decided not to charge the cop. In their statement they said: "The evidence accumulated by the BEI included police vehicle in-camera videos, footage from security cameras from nearby local businesses, witness statements from civilians and City of Edmundston police officers, cellphone analysis, fingerprint analysis and ballistics reports." The BEI, or Bureau des Enquetes Independantes, is the Quebec police investigation agency that handles the investigation since New Brunswick does not have an agency to handle shootings by police. Despite the claim from the BEI and NBPPS of using a wide array of evidence sources, Grace Frank, Chantel's grandmother, has unanswered questions.  "Why did she have a broken leg? Why did she have a broken arm? Why were their bruises on her body? She had bruises around her waist and inside of her thighs like something happened to her before they killed her," says Frank. Nearly a week later, on June 12th RCMP shot and killed Rodney Levi as well. This year people of Moncton are gathering for a day of remembrance for these two people, and the thousands of children who lost their lives from Canada's residential school system.
At least 34 people in Canada were killed by police in the year 2020, and 55 were shot. Of the 21 victims where information on race was available, 10 were Indigenous. Of the last 100 people killed by police, there were 66 cases where information on race was available, and of those cases, 25 were Indigenous victims. The 25 Indigenous deaths represent a rate of 1.5 out of every 100,000 Indigenous Canadians being shot and killed by police. The Canadian average rate of being killed by police is 0.3 per 100, 000.
Experts who study the Canadian criminal justice system and its policing of Indigenous people within Canada's borders say the problems have roots in the the state's violent colonization of land and people. Even Norm Taylor, a well-known figure in advising police and researching policing in Canada have to admit, "The conversation needs to be about systemic racism, and the continued colonial constructs that set up too many of these highly dangerous encounters." In an interview with Canadian Dimension, Sherene Razack states, "We already know that reform leads nowhere…there is such a push to make this all into reform of something that cannot be reformed. Racial violence is so structurally supported." and, "The question for me at the end of the day is how do we all get on board with an abolitionist future? That's where we need to be."
Fight to Save Fairy Creek Continues Amid Announcements for Some Logging Deferrals
This week the fight for Fairy Creek raged on in southern Vancouver Island. Forest defenders bravely continued to maintain multiple camps, responding each day to new attempted police raids and injunction enforcement. Defenders continued to use creative and quick-thinking tactics to slow police progress. Police only became more aggressive in their removals, frequently employing heavy machinery to remove locked-down protesters. As of June 9, 197 arrests have been made.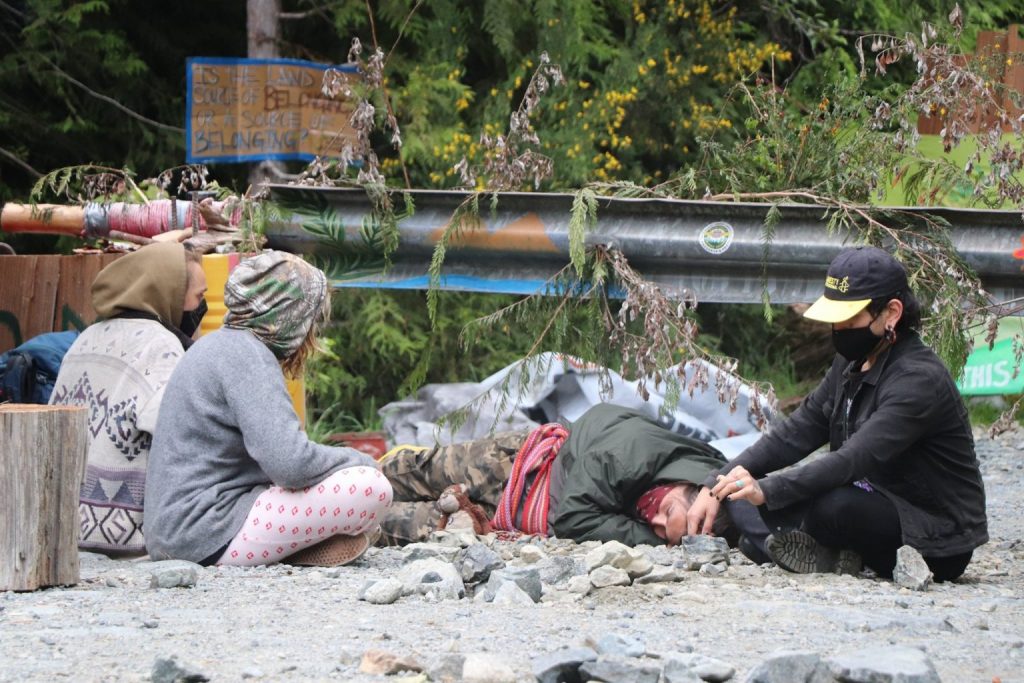 Meanwhile, this week the B.C. provincial government announced the granting of a request made by the Huu-ay-aht, Ditidaht, and Pacheedaht First Nations to defer old-growth logging in parts of their territories for two years.
The Rainforest Flying Squad issued a statement on June 7 stating that while they welcomed the announcement, they remained concerned that it would not guarantee the protection of many sections of the Fairy Creek Rainforest. Further, the deferral will not prevent the building of logging roads, which could quickly be put to use if the deferral is lifted. They also stated:
This announcement does nothing to address the systemic crisis in the way our forests are managed. Premier Horgan must act rapidly to defer logging across 1.3 million hectares of at-rsk old growth identified by the Sierra Club of BC.
They concluded by saying that they will continue to stand their ground and fight to protect the forest.
Gitxsan House Group Raising Funds for Logging Blockade Camp on their Lax'yip
There is a relatively new ongoing blockade on Gitxsan territory (in so-called British Columbia), seeking to prevent logging of the old growth forests on their land. As explained on their website, "In Gitxsan culture, the land is held and taken care of by family groups called wilp or houses. Our house is called the house of Ts'iibasaa. Our goal is to maintain traditional values and protection over the land by preventing any unwanted activity on our territories. We want to be able to continue teaching current and future generations on the land with a hands-on approach."
In early May, the Wilp Git'luuhl'um'hetxwit installed a gate at the entrance to their Lax'yip (territory) and have already resisted attempted incursions by industry trying to remove or pass through the gate to cut the trees on their land. As reported by The Tyee, other nearby house groups of the Gitxsan have been present to support the blockade as well.
The Wilp Git'luuhl'um'hetxwit have begun constructing a cabin at the site of the gate and hope to improve their camp to allow them to stay at the site more comfortably in the coming months. They have a GoFundMe which is raising funds for these construction efforts, as well as for other camp costs, infrastructure, tools and media:
By building a cabin and other simple infrastructure we can use these traditional territories and maintain them. We are now keeping our territories safe through constant occupation. By setting up a gate and controlling who can come into our territory, we improve our chances to maintain our remaining old growth forest. We do this for the seventh generation, for those who will protect this land long after we are gone.
To stay up to date with the struggle to defend the Gitxsan Lax'yip, you can follow their Instagram (@git_luuhl_um_hetxwit), Twitter (@git_hetxwit), or Facebook accounts.
Anti-Pipeline Action in Toronto
Meanwhile, land defense struggles on the west coast have not gone unnoticed in other parts of so-called Canada. In Toronto, people took direct action in solidarity with the fight against the Trans Mountain pipeline in BC. The Toronto office of LEDCOR, a construction company participating in the Trans Mountain project, had its windows smashed and exterior redecorated overnight. The front of the building was spray painted to read "NO PIPELINES ON STOLEN LAND". The anonymous communique claiming the action read in part:
LEDCOR must know – all of so-called Canada must know – the destruction of the natural world and the violation of Indigenous sovereignty will continue to be resisted. These lands will be defended. And the colonial-capitalist death machine will not take its profits easily.

Night time excursions involve just a few pals and masks, making them a fun COVID-safe activity to enjoy with friends! Target the coporations, the institutions, and the people responsible for the ongoing death and destruction of this breathtaking world. The waters are not helped with retweets, nor are the forests or grasslands. Let small sparks of solidarity like this light your fires again and move you to action. Be in honorable relationship with this land and the peoples Indigenous to it. Kiss the soil beneath your feet and disappear into the night.
Vancouver Port Blocked in #BlockTheBoat Palestinian Solidarity Action
On June 8th, hundreds of community members in Vancouver joined comrades along the west coast of Turtle Island in successfully blocking an Israeli shipping company's delivery.
On their website, the Bay Area Arab Resource & Organizing Center (AROC) in California explained #BlockTheBoat, stating:
As part of the Boycott Divest Sanctions Movement, during the 2014 war on Gaza workers from Palestine called unions across the world to stand in solidarity with Palestine. AROC led the Block the Boat coalition, where we worked with workers of ILWU Local 10 to encourage them not to unload the Zim as a means of putting economic and political pressure on apartheid Israel. Since our successful actions, the Zim ship has not returned to the Port of Oakland. But, for the first time since 2014, the Zim shipping company is scheduled to return to the Bay Area.
When organizers in Oakland successfully thwarted Zim's delivery, the boat headed north, attempting to make the delivery in Vancouver instead. Community members in Vancouver mobilized to block an entry to the port of Vancouver, successfully preventing the ship's delivery.
AROC has invited those in Vancouver to text 833-590-1987 to receive text alerts for further actions.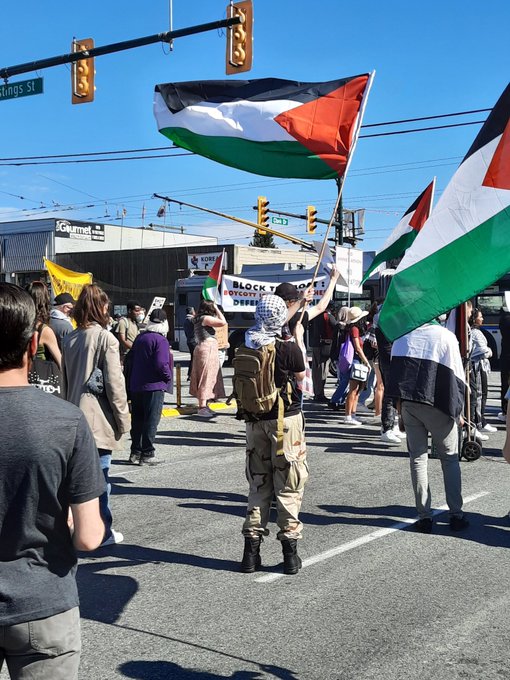 Anti-Muslim Attack in London Leaves Four Dead
On June 6th in London, Ontario, a horrific act of anti-Muslim hatred killed four family members, leaving a fifth injured. Three generations of the Afzaal family were out for an evening walk when they were struck by a vehicle in a hate-driven attack. Only the youngest of the family, a nine-year old boy, survived.
Members of Muslim communities expressed a mix of grief, fear, and exhaustion, as this event reflects a pervasive culture of Islamophobia experienced by many Muslims across Canada.
Some were quick to point out that a culture of anti-Muslim hatred has been sown in Canada for years, including at a government level. In Quebec, a bill passed in 2019 banning the wearing of religious symbols in public-sector jobs has been widely understood to target Muslim women wearing the hijab, and to aid in legitimizing anti-Muslim discrimination. In 2017, 91 federal members of parliament voted against a non-binding motion to condemn Islamophobia, including the MP for London. Despite the essentially toothless nature of the motion, it prompted fierce backlash, including being a subject of many far-right demonstrations at the time. London itself has been the site of a number of rallies by the far-right, anti-Islam group PEGIDA.
This act follows the Quebec mosque shooting in 2017, which killed 6 and seriously injured 5 others, and the stabbing of a volunteer at a Etobicoke mosque in 2020, displaying a terrifying trend of fatal anti-Muslim acts.
Vigils and prayers were held across the country, including a gathering of thousands in London, at which Doug Ford, premier of Ontario, was loudly booed as he approached the stage to speak.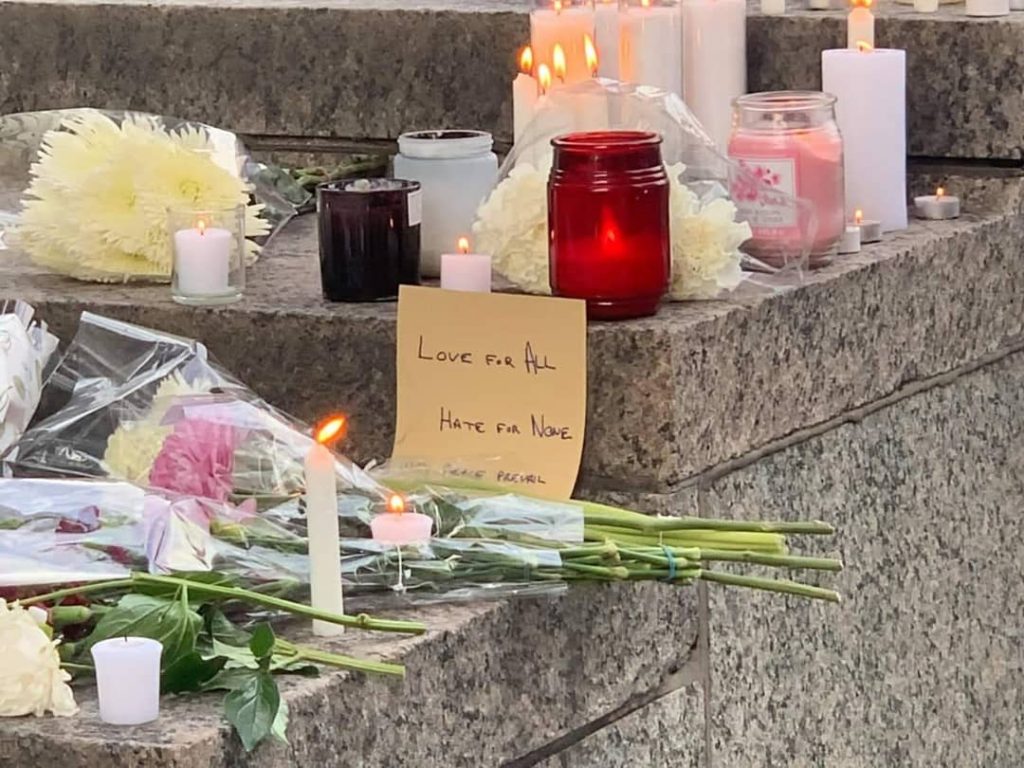 Cover photo: 1492 Land Back Lane