From It's Going Down
This week we cover drag storytime defense actions in Ontario and Quebec, and disruptions to Canada's largest gold mining company's annual shareholder meeting.
There are also a few positive news stories from the past couple of weeks we'd like to mention. CBC recently reported that BC police forces are struggling to recruit and retain officers, and are blaming a "declining interest in policing" for the difficulty. There is up to 20% vacancy in RCMP detachments across BC. A good start!
CGL has been served with stop work orders for multiple stretches of the pipeline after BC regulatory bodies defied all odds and gave the company a slightly larger slap on the wrist than usual for their destructive practices, including pumping sediment into rivers.
A large crowd turned out in support of abortion rights on parliament hill last week. A Conservative MP's Private Member's bill that is being called a "thinly veiled" attack on abortion rights is making its way through parliament, coinciding with the annual anti-abortion March for Life in Ottawa on May 11. The CBC estimates that between pro-choice and anti-abortion protesters, about 1,000 people were out on Parliament Hill.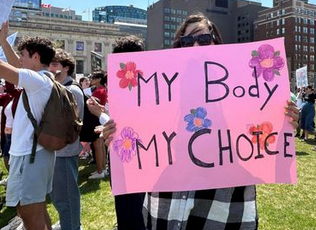 Housing justice organizers in Toronto, Vancouver, and Montreal held a coordinated action to protest a luxury condo development at 214-230 Sherbourne in Toronto. The site, located in a low-income neighborhood, has been the subject of a campaign dating back to 2018 calling on the City of Toronto to expropriate the land and build affordable housing. On May 2nd, groups in all 3 cities occupied the offices of KingSett Capital, the condo developer. A statement from the group 230 Fightback said:
"KingSett's proposed tower is not wanted in our community" says Gaetan Heroux, a long time poverty activist in the Downtown East. "Dundas and Sherbourne is at the epicentre of the housing crisis in the country and in desperate need of social housing. KingSett's proposal would only further contribute to the housing crisis and further displace people from this low income community."
Drag Storytime Defense
On April 29th, a crowd of about 120 supporters showed up to counter anti-drag protesters at a Toronto library drag storytime event. They far outnumbered a crowd of about 30 protesters, including members of 'White Lives Matter' and 'Save Canada.' A large number of police, including a mounted unit, were also present. A few of the far-Right protesters attempted to enter the library and were blocked by supporters, library staff, and police. Video from the event shows some of the protesters uttering violent threats to queer and trans people in attendance, and throwing up nazi salutes. One protester showed up in bloc and carrying a pride flag, seemingly attempting to blend in with supporters, though he was quickly identified. Creative chants kept the energy up through the demonstration.
There was another smaller protest at a library in Toronto on May 6th, where community members again showed up to support drag performers and attendees. Video posted by white supremacist and homophobe Gus Stephanis shows supporters surrounding the library, with Toronto police and library security appearing to be in larger numbers than both protesters and supporters.
In Parkhill, ON, individuals and community groups including the Wind Sisters biker group and Strathroy Pride stood together to defend a drag storytime event. An article from Pink News states that dozens of anti-drag protesters attempted to block the entrance to a local library that was holding the event. Counter-protesters took up space and helped safely escort families into the library.
In Montreal on May 16th, Francois Amalega, who organized a protest against a drag story hour in Sainte-Catherine in April, called for yet another protest against the same drag queen. Drag defenders mobilized in the hundreds. One reportback read:
250 drag defenders gathered and held the block surrounding the Maison des familles for roughly 2 hours with music, banners, snacks and rainbow-colored umbrellas. François Amalega was late to his own protest, claiming to have been attacked by antifa outside his home in the afternoon, his car tires slashed and his phone stolen. Only five other transphobes showed up and had to be protected by lines of police while they stood sadly on the sidewalk in the rain. The drag queen story hour with Barbada went ahead in a different location, and the drag defenders left in a festive march through the neighborhood.
Protesters Disrupt Barrick Gold Shareholder Meeting
On May 2nd, Barrick Gold's annual shareholder meeting in Toronto was disrupted at every step. Protesters raised the voices of Indigenous communities around the world who are impacted by Canada's largest gold mining company.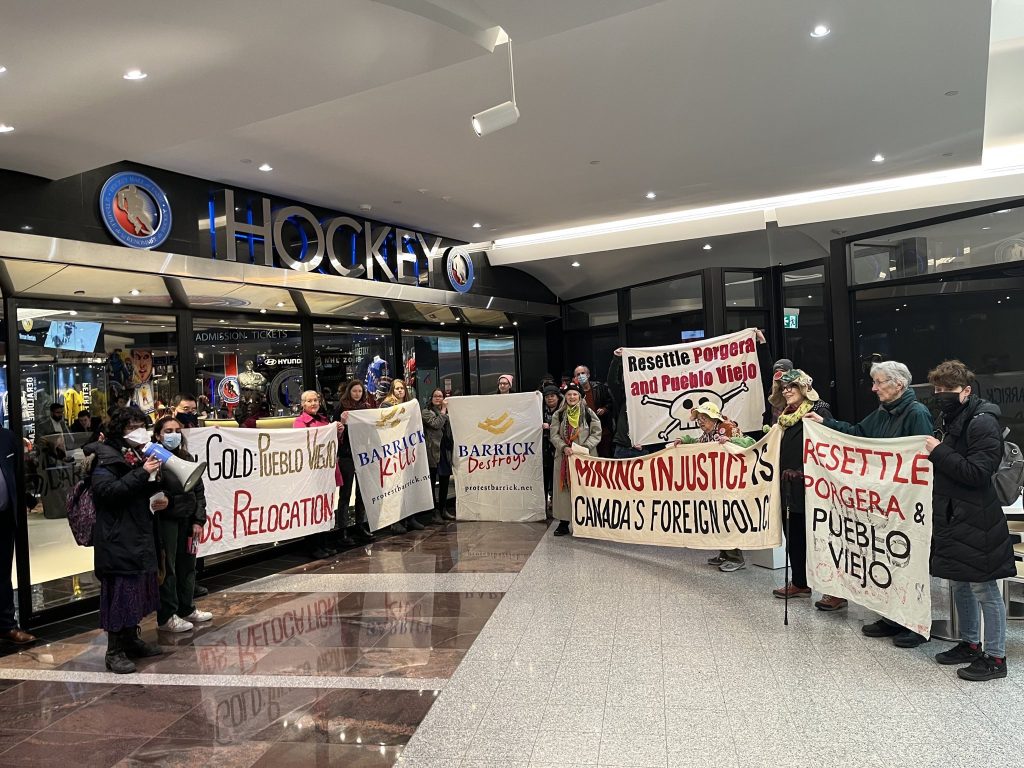 A reportback from the Mining Injustice Solidarity Network stated:
A mobile billboard parked outside Barrick Gold's annual shareholder meeting projected messages from communities from Alaska to Papua New Guinea, alleging the company is failing to respect Indigenous rights, contaminating their water and harming their ways of life.

At the same time, dozens of protesters greeted shareholders inside the building with banners highlighting community demands and fliers linking to community testimonies. The protest chants could be heard from inside the shareholder meeting where every single question raised brought attention to significant harm at Barrick's mines and called into question the company's social license.
The protest was part of a global week of action leading up to the meeting, which also included actions and statements from groups in Argentina, the Dominican Republic, Papua New Guinea, Alaska, Nevada, Pakistan, and the Philippines. Barrick Gold is also currently being sued in Ontario courts for violence and repression against communities neighboring the North Mara mine in Tanzania by Barrick private security and police. Wherever they operate, Barrick Gold leaves a trail of violence and destruction, and they cannot be allowed to go about their business without being held to account.