From The Leveller
Dozens of supporters of the Wet'suwet'en nation – currently facing police suppression in B.C. for blocking construction of a pipeline – stormed into a government building in Ottawa and disrupted a speech to be delivered by Prime Minister Justin Trudeau on Jan. 8.
Trudeau's opening remarks at the Canada-Modern Treaty and Self-Governing First Nations Forum were set to be delivered at 2 p.m. He and his ministers were instead forced to relocate across town after supporters of the Wet'suwet'en land protectors fought through lines of security and police personnel at two separate entrances to the John G. Diefenbaker Building on Sussex Drive.
Dozens of rallies were held internationally on Jan. 8 in support of the five Wet'suwet'en clans led by hereditary chiefs who have refused industry access to their land. For the past decade, the Unist'ot'en Clan's camp has sat at the intersection of a number of proposed pipelines slated to transport oil and gas from B.C. and Alberta to tidewater on the West Coast, denying access to pipeline companies.
All five clans of the Wet'suwet'en nation have unanimously opposed all pipeline proposals, and recently established the Gidimt'en checkpoint, 20 kilometres from the original Unist'ot'en camp. "The Gitimt'en Camp is clear that this not a blockade, as they will grant access to various parties, including logging companies, fishers and hunters, provided that they follow the Free, Prior and Informed Consent protocol," according to Earth First! Journal. It has also been used to host gatherings, workshops, and traditional activities for the Wet'suwet'en.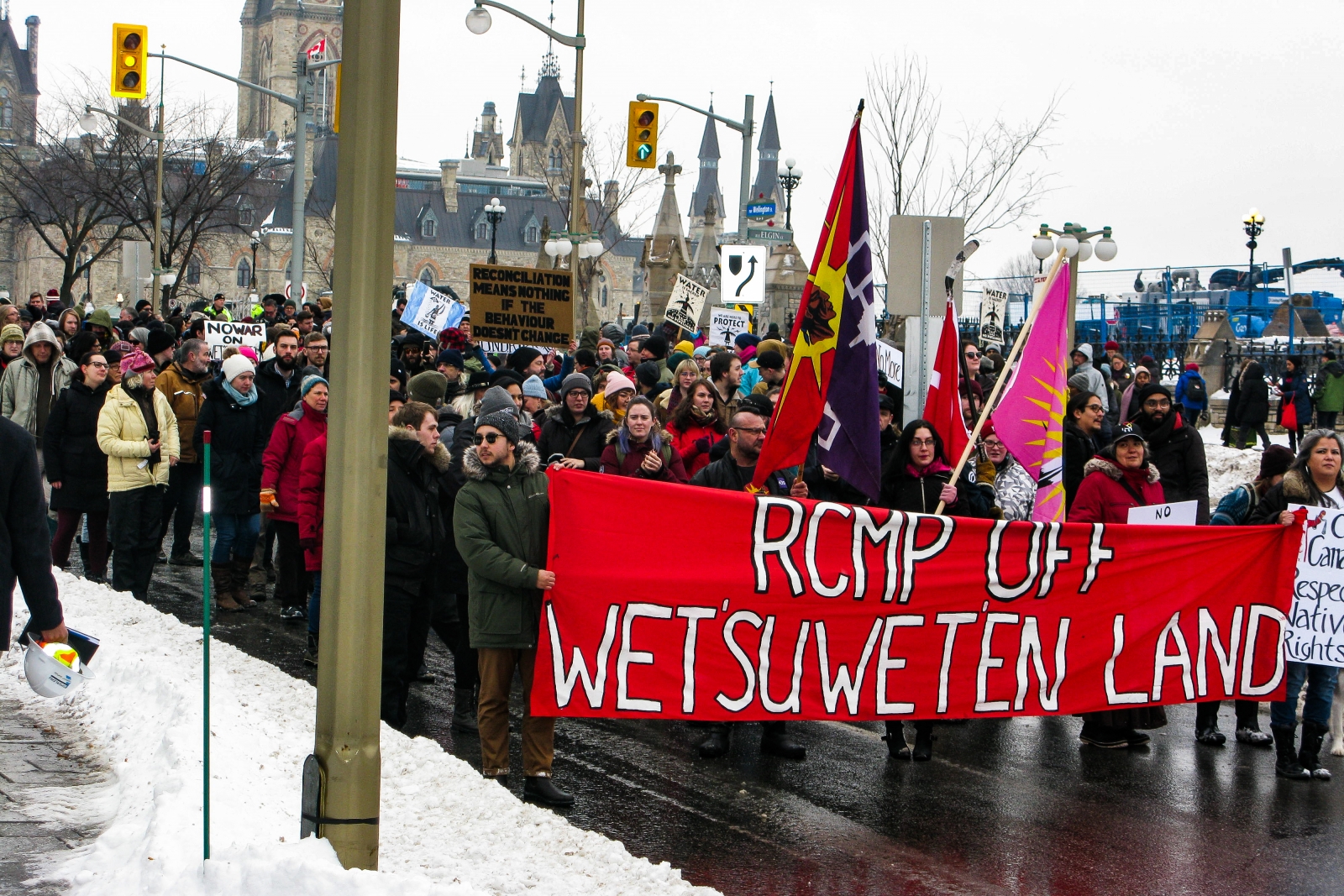 The Wet'suwet'en and other Indigenous nations along the pipeline routes have never surrendered title to their territories, which the Supreme Court of Canada recognized in the 1997 Delgamuukw case.
On Dec. 14, TransCanada Corporation obtained an injunction from a B.C. court to remove Indigenous obstacles so that construction could commence on its Coastal GasLink pipeline.
The RCMP amassed a large force of officers and moved in on the Gidimt'en checkpoint on Jan. 7, 20 kilometres from the Unist'ot'en camp. Heavily armed officers in camouflage fatigues arrested 14 people.
An international call to action for Jan. 8 was issued to support those defending the Gidimt'en Access Checkpoint.
This call to action, which circulated among media and activist groups, said that "The RCMP's ultimatum, to allow TransCanada access to unceded Wet'suwet'en territory or face police invasion, is an act of war. Despite the lip service given to 'Truth and Reconciliation', Canada is now attempting to do what it has always done – criminalize and use violence against indigenous people so that their unceded homelands can be exploited for profit."
The call to action invoked Article 10 of the UN Declaration on the Rights of Indigenous Peoples, which states that "Indigenous peoples shall not be forcibly removed from their land or territories."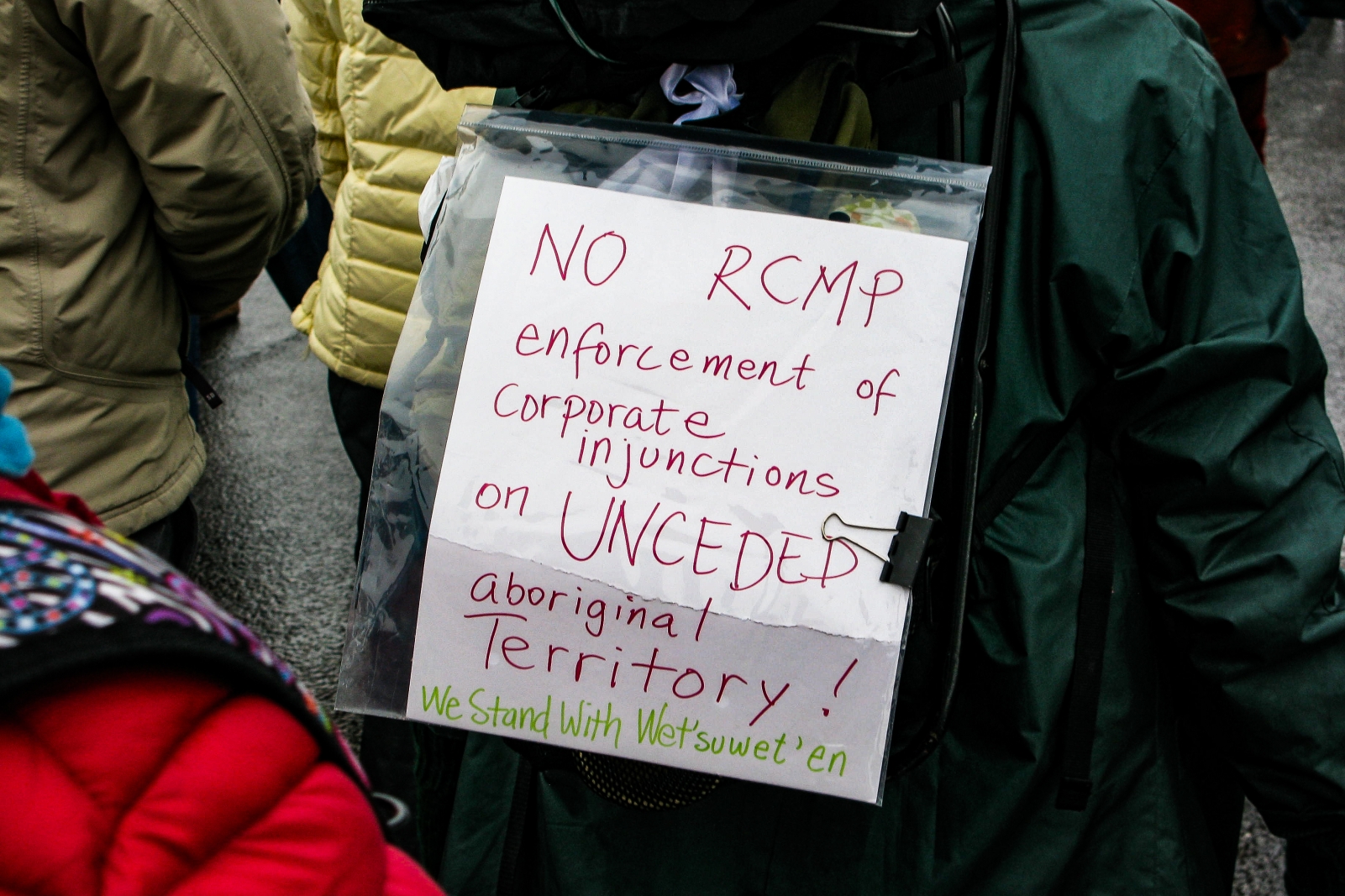 "We are now preparing for a protracted struggle. The hereditary chiefs of the Wet'suwet'en and the land defenders holding the front lines have no intention of allowing Wet'suwet'en sovereignty to be violated."
Hundreds had gathered earlier on Parliament Hill during the noon hour to condemn RCMP action against the Wet'suwet'en and call into question Trudeau's rhetorical approach to reconciliation and purported nation-to-nation relationship with Indigenous peoples.
On Parliament Hill, Ashley Courchene, a Carleton graduate student from Sagkeeng First Nation in Manitoba, called the RCMP action against the Wet'suwet'en an invasion.
"The RCMP are engaged in a media campaign to convince the average Canadian that they are the ones who are rational and peaceful while painting Indigenous peoples as criminals on their own homelands."
"What the RCMP are doing right now in B.C. are not upholding the rule of law," said Courchene. "They are engaging in state-sponsored terrorism against Indigenous people, which is funded by oil companies, and it's time that we face up to this truth."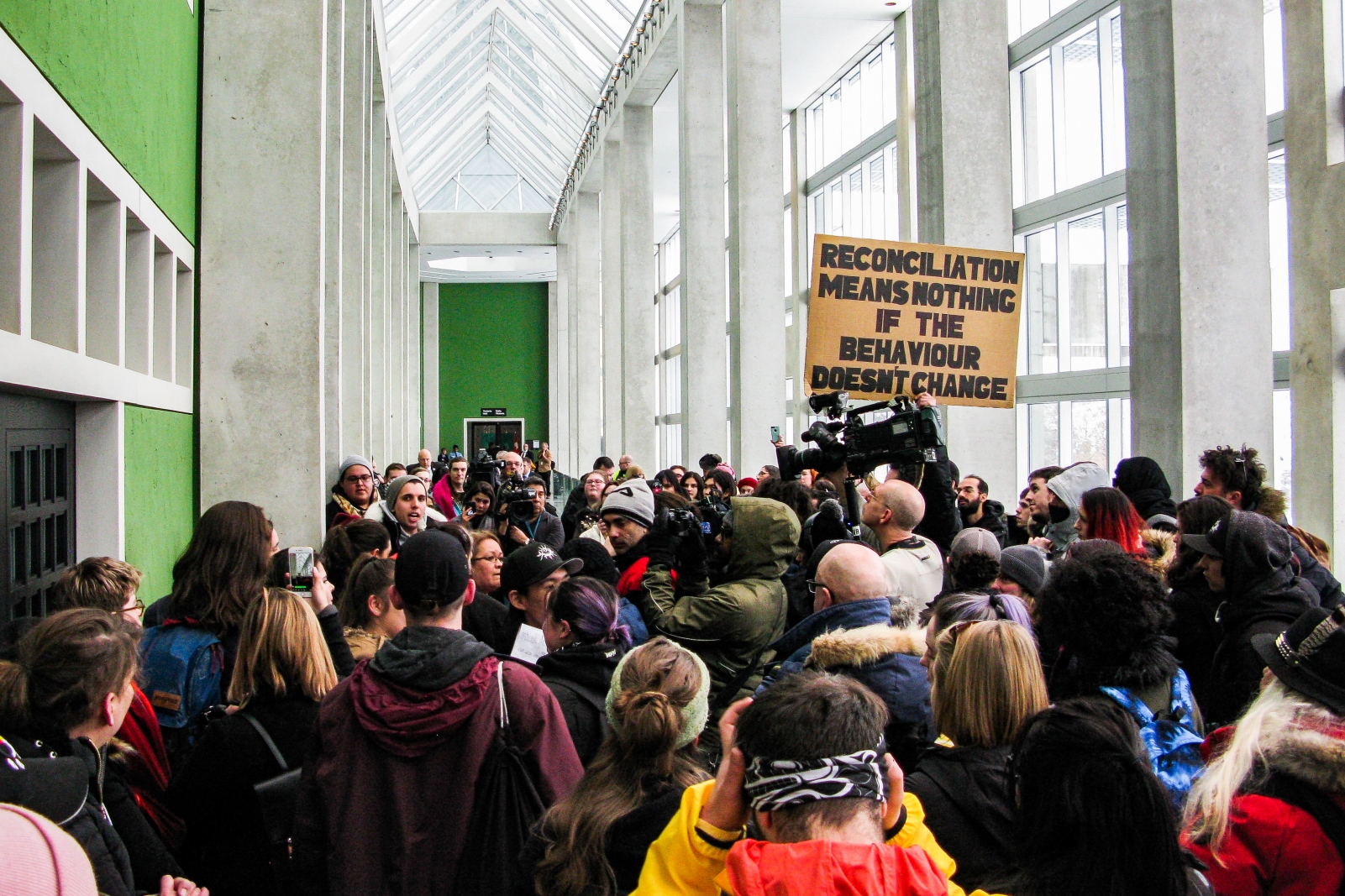 After a series of speeches at Parliament Hill, over 200 people took to Wellington Street and held a large round dance at the intersection outside of the Prime Minister's Office. They then moved to form a large circle and held the intersection at Rideau Street and Sussex Avenue before proceeding to the United States Embassy, where another large round dance was held. While many of the supporters had trickled away, over 100 people, including a line of drummers, marched down Sussex.
Upon reaching the Diefenbaker Building, activists charged from the street into the two main entrances and skirmished with RCMP and security personnel before breaking their lines. Dozens stormed into the building and gathered outside the fortified room where Trudeau and his Indigenous Affairs ministers – Carolyn Bennett and Jane Philpott – lay low.
Trudeau refused to come out and address the crowd of over 100 Indigenous peoples and their settler allies, who had all made it into the building by this time.
This crowd held the space by chanting, making noise, and delivering a variety of speeches over a megaphone in open-mic fashion.
Among the dozens of speakers was a seventeen-year-old Mi'kmaw girl named Sophia, who addressed Trudeau directly from outside the meeting room.
"Justin Trudeau, I know you are listening, and this (RCMP raid) cannot happen ever again."
"Decriminalize us!" she demanded.
"We want to be sovereign nations," she continued. "Why do we need to take you to court? This is our land, these are our rights, these are our traditions, this is our culture. We just want respect like every single other person on this planet."
After over an hour, the large group left without incident.