On Friday, June 28th, The Tower called for a Day of Autonomous Action to drop all the charges against pride defenders and to free Cedar immediately. This Day of Action comes on the heels of repeated harassment of queers by the police, city Councillors, mayor Fred Eisenberger and the far-right since the fall out of the Hamilton Pride festival.
June 28th was also the 50th anniversary of The Stonewall riot in NYC which catalyzed the modern Queer and Trans Liberation movements and what we've come to know as Pride. Getting back to our roots, this Day of Action wasn't a music festival, there was no banks invited, no personalities, no celebrities, no boards, no cops, no CEO's. Our Day of Action was one of people coming together and rejecting piecemeal offerings of tolerance and demanding liberation. This is our Stonewall. This is our Bathhouse Riot.
There was over 48 actions around the world responded to our call, with graffiti, postering, stickers, marches, rallies, demonstrations, phone zaps, messages of solidarity and fundraisers. It has brought us to tears time and again seeing the love people have to give, and encourages our call to drop the charges and free Cedar.
We've collected together all the actions that were shared with us below. Please keep posted as things develop because this is far from over.
Participating Cities: Hamilton (x8), Thunder Bay, Peterborough(x3), Orillia, Barrie, London, Toronto(x4), Kitchener(x2), Kingston, Rural Ontario, Montreal(x3), Calgary, Edmonton(x2), Gidimt'en, Hazelton, Halifax, Philadelphia, Minneapolis, San Francisco, Seattle, Chicago(x2), Detroit, Richmond, St. Louis, Lansing, Rural Vermont, Berlin, Manchester, Helsinki, Rural Scotland, and Barcelona.
https://north-shore.info/2019/06/25/day-of-action-drop-all-charges-against-pride-defenders/
Local
Hamilton, Ontario
---
Gore Park
150 people gathered for a rally and march. The march snaked through downtown with loud chants, dancing, stickering, and postering throughout. After an emotional moment of silent solidarity with the Sudanese Vigil remembering those killed and disappeared in the midst of a revolution, The march ended with a dance party and fire works in downtown intersection for hours. festively anti-police, queer, and fierce participants calling to drop the charges and free cedar.
---
Downtown
Graffiti, stencils, posters, and stickers covering the downtown core calling to drop the charges against pride defenders and free cedar.
---
No picture
Rainbow flag and Trans flag taken back from their polls on top of city hall by queers. This is the second time this happened in one week.
---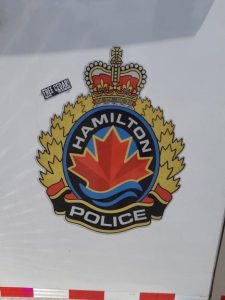 Sticker saying "drop the charges, free cedar" put up on a Hamilton police horse trailer.
---
Durand neighborhood
Solidarity poster designed and put posters up in Durand neighbourhood for the day of action.
---
Gage Park Area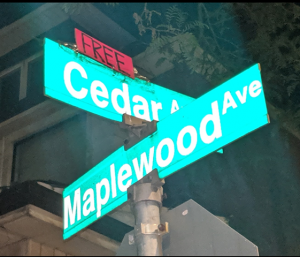 Street sign modified and graffiti left at Gage park reading, "Queers weren't safe here, are you?"
---
Postering in the Gage Park neighborhood.
---
Hamilton East end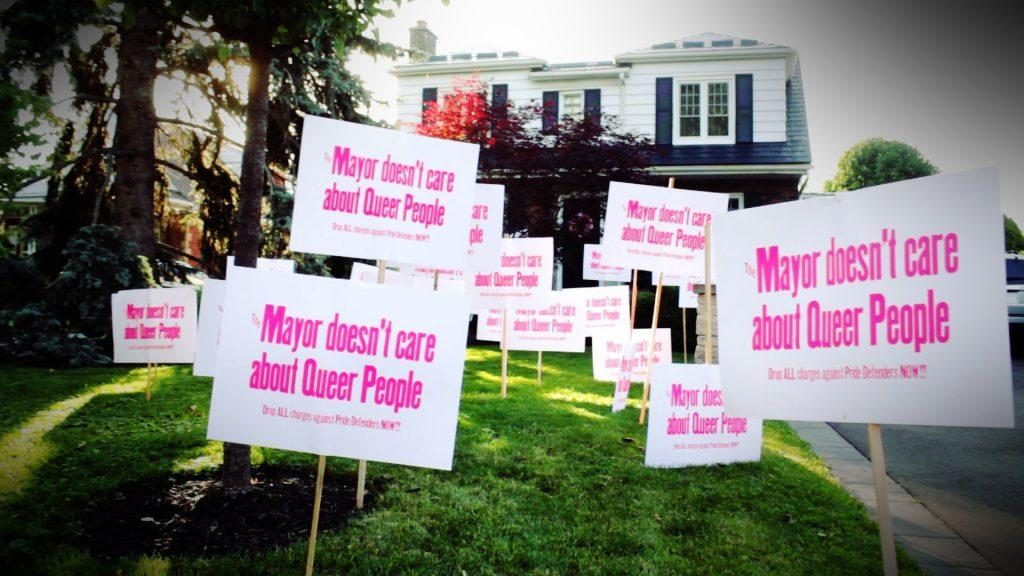 Mayor Fred Eisenberger woken up at 7am by a festive band and lawn signs reading, "The Mayor Doesn't Care About Queer People. Drop All The Charges Against Pride Defenders Now!!!" Wrapped up in 15 minutes, sending the mayor into a flurry of ill-advised tweets. He then quickly mustered the forces of "Fred's Fiefdom" to target anyone who was present. A comrade was arrest 5 hours later when swarmed by 12 cops in 6 cruisers, and held over night on 4 trumped up charges.
communique:
https://north-shore.info/2019/06/28/a-wake-up-call-for-the-mayor/
---
Ontario
---
Thunder Bay, Ontario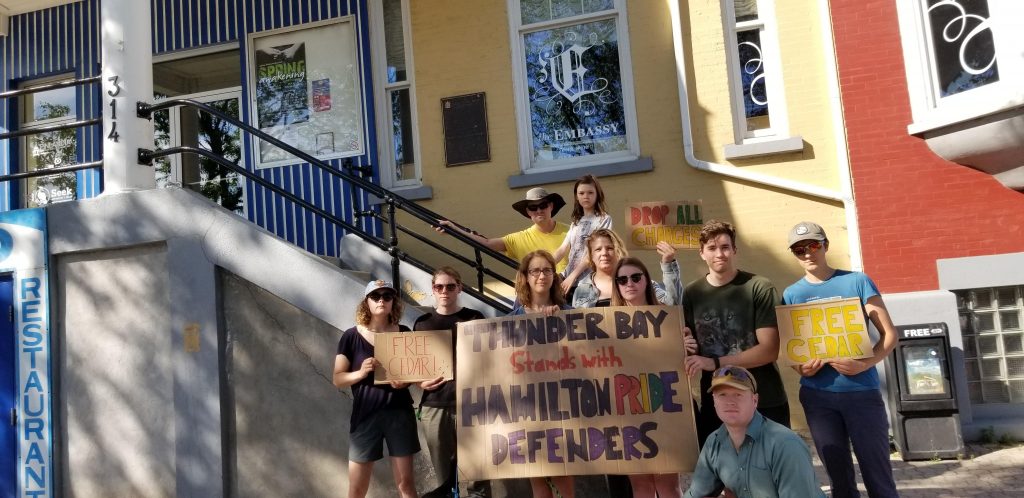 Thunder Bay Stands With Hamilton Pride Defenders!"
---
Peterborough, Ontario
Peterborough Sharpie and Spray Singers Show Solidarity and Support.
Writing and tagging words of support for Cedar and the other pride defenders, postering to spread action.
No bench or blank wall is safe!"

---
Posters were put up in Peterborough at Landsdowne bus stops and we were pleasantly surprised to see someone else put up their own :)"
---
Orillia, Ontario
Hey!
We spent the morning decorating downtown Orillia with stickers for Cedar!
Sending love to Hamilton"
---
Barrie, Ontario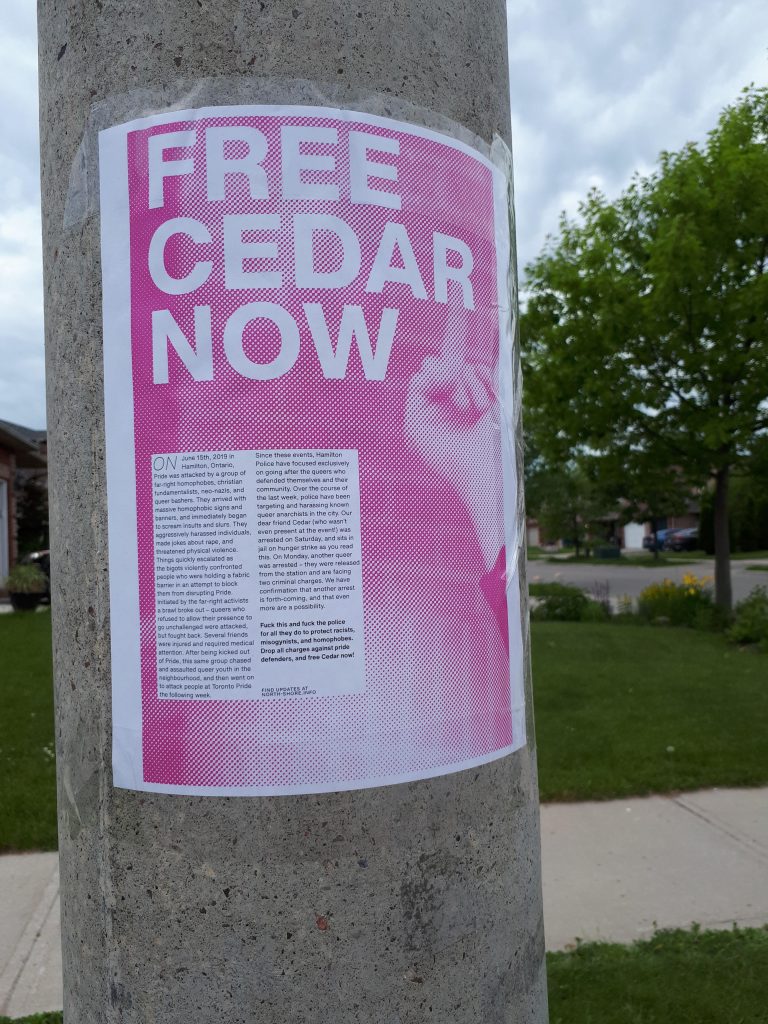 Hey there!
Got busy last night in Barrie, Ontario!!
These posters are on every end of town – high and low!!"
---
Rural Ontario
queer love & solidarity from this hetero hell in rural so-called Ontario.
thanks for helping bring pride back to its radical roots.

WE WILL WIN
(A)"
---
London, Ontario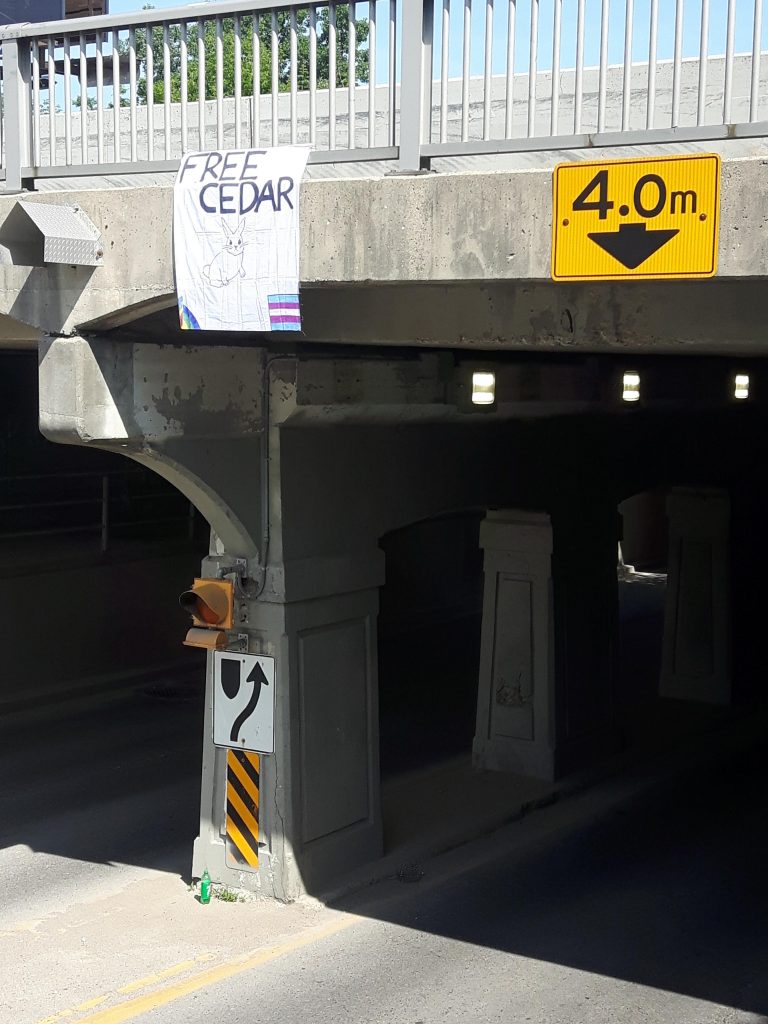 Banner dropped over bridge in London for day of action."
---
Toronto, Ontario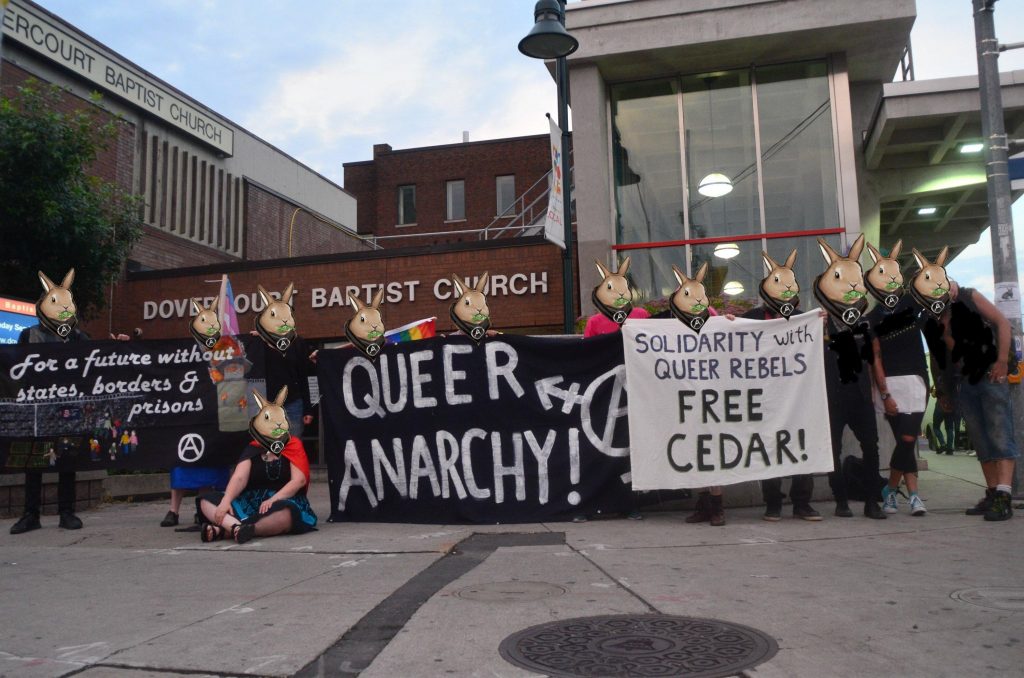 Toronto in Solidarity with Hamilton Pride Defenders
From the communique:
We then took to the streets with banners and leaflets to spread the word and show our solidarity with all queers facing repression in Hamilton, and especially Cedar, who remains in jail. …

Bonus, a few other Toronto actions we noticed and appreciated today:

A postering crew who stopped by and joined in on our demonstration
Some comrades who used a GO bus (facebook link) to spread the word between here and Hamilton"
https://north-shore.info/2019/06/30/toronto-in-solidarity-with-hamilton-pride-defenders/
---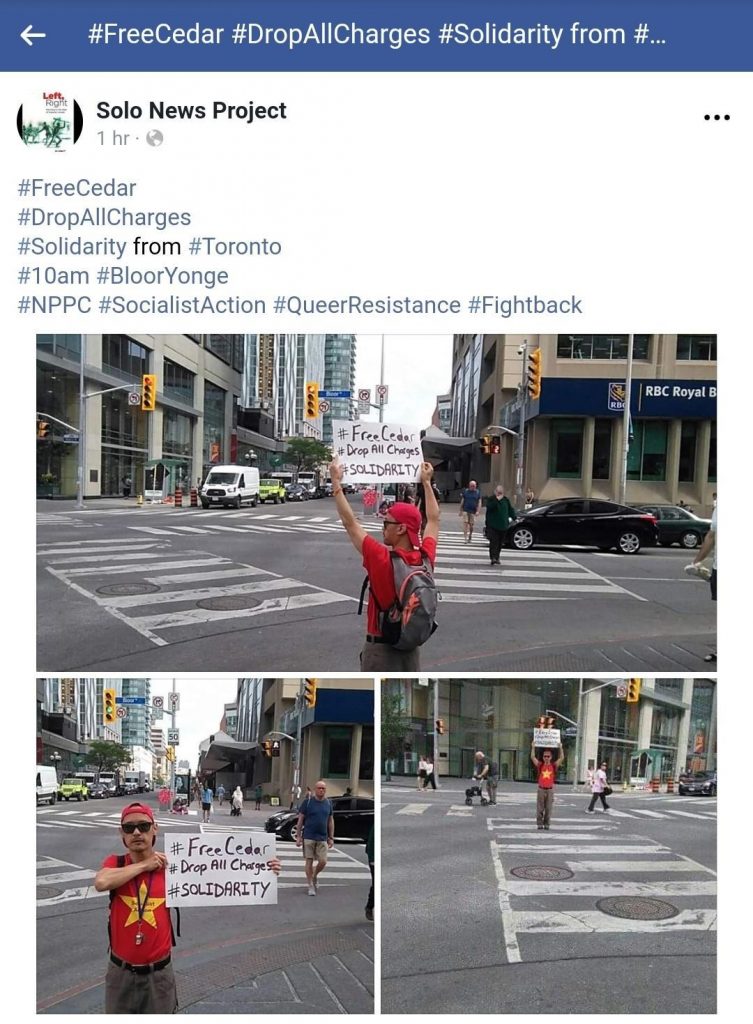 Dear comrades,

Sending solidarity from Yonge/Bloor in Toronto earlier this morning.
#FreeCedar #DropAllCharges #Solodarity
YC Lee
NPPC – No Pride in Police Coalition"
---
Kitchener, Ontario
A banner was dropped this morning in Kitchener Victoria Park… Reads 'free cedar! Solidarity with queer rebels targeted by hamilton police' "

---
KW Solidarity with Queer Rebels! Free Cedar!
From the Communique:
On the morning of June 28th a crew of KW anarchists dropped a banner in solidarity with all those fierce queers arrested and attacked in Hamilton. …"
https://north-shore.info/2019/06/28/kw-solidarity-with-queer-rebels-free-cedar/
---
Kingston, Ontario
From the Communique:
A group of queers, anarchists and supporters went downtown today, on the fiftieth anniversary of the Stonewall riots, to mark the day of action called for by our pals in Hamilton. We wore pink masks as an expression of complicity with pride defenders, held a banner that said "queers bash back," and handed out hundreds of flyers to tourists and other passersby. Love and solidarity to Hamilton's pride defenders and to our dear friend Cedar who's stuck in jail.

Fuck the police, Ontario Corrections, and the fascist homophobic trash who attacked Hamilton Pride.

<3 <3 <3 <3 <3 <3 <3 <3 <3″
https://north-shore.info/2019/06/28/kingston-flyering-action-in-solidarity-with-pride-defenders/
Canada
---
Rural New-brunswick
Somewhere on the road in New-Brunswick ❤️"
---
Montreal, Quebec
Demo and Dance Party
40+ folks came out for a demonstration which took over the streets in Montreal's village with banners, speeches, and purple smoke bombs concluding with a dance party in the streets to take up militant queer space.
https://north-shore.info/2019/07/02/staying-out-means-fighting-back-solidarity-with-cedar-mtl/
---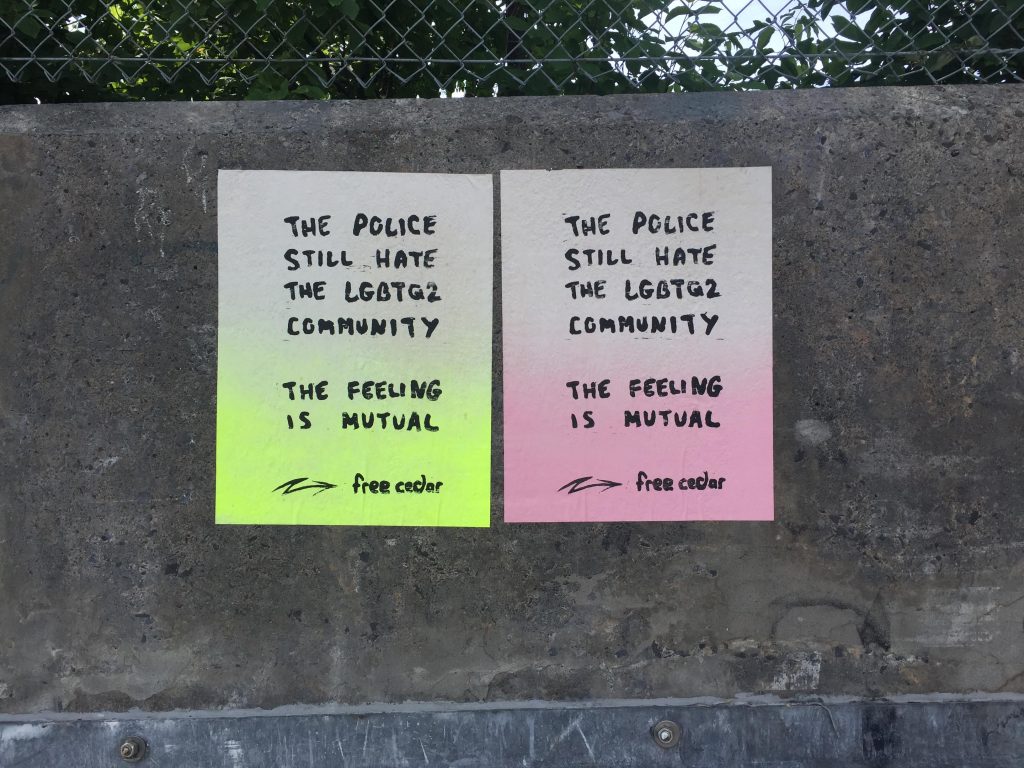 Poster design and postering queer anti-police posters
---
Free Cedar Graffiti with circle A's around town.
---
Calgary, Alberta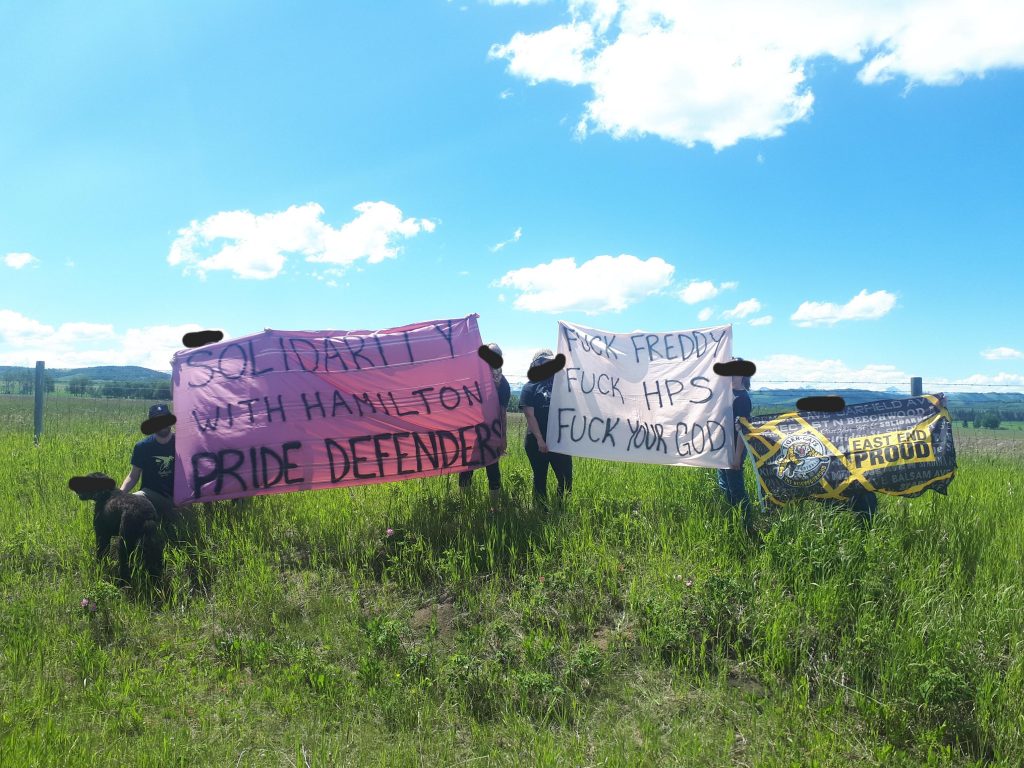 wish we were there."
---
Edmonton, alberta
a phone zap of Hamilton Police Services "Compliment line"  clogged their phones and filled their inbox.
rally to commemorate 50 years since the stonewall riot featured free cedar banner.
---
Gidimt'en Access Point, So-called BC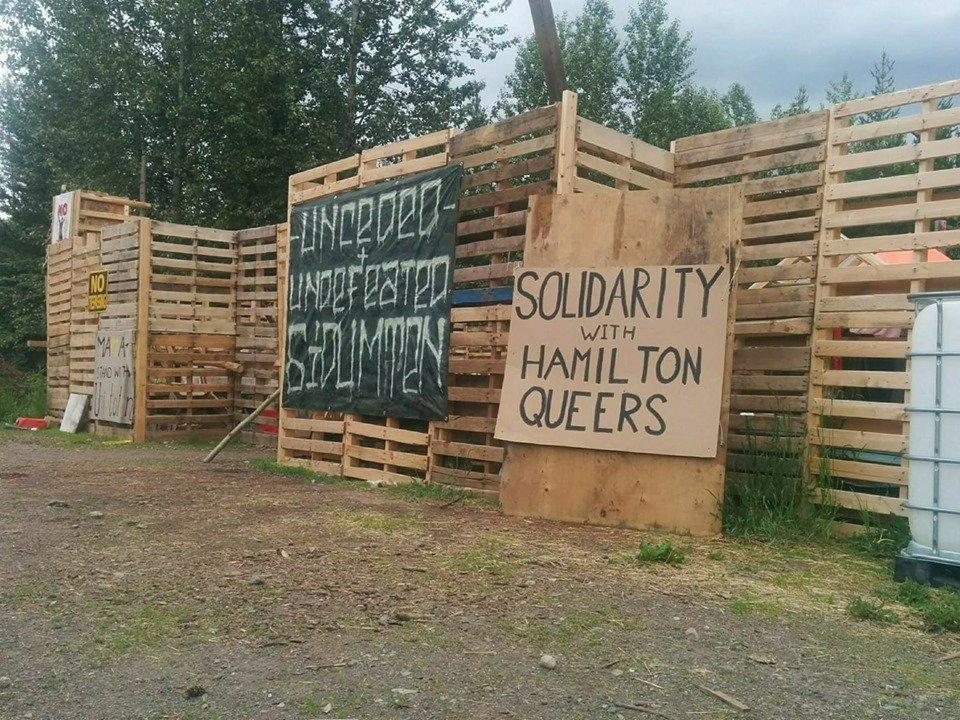 solidarity statement with pride defenders and message of solidarity written on barricade.
From the Communique:
…

It was with sadness and feelings of encouragement that we heard about the events at Hamilton's Pride celebration on June 15th and about what has happened since then. Sadness that some people would bring their hatred and attack members of your community while police did nothing. Encouragement to know that you defended yourselves and kept each other safe. Sadness again that Hamilton Police responded by harassing community members and then arresting people for defending themselves on that day or for speaking out against the police's role in the events. And again encouragement at your community's ongoing strength, resilience and resistance in supporting each other, the arrestees and in refusing to be passive, silent or afraid. Know that we stand with you.

We too know about police indifference to our safety. About how little effort they put into investigating the disappearance or murder of our people. About how they do nothing when racists burn down our people's cabins. And we know all too well how ready they are to target our people both in town and when we assert our laws against those who would violate them and bring us harm. Despite the raid, arrests, harassment and ongoing RCMP occupation on our territory we continue to defend our laws, our Yintah, our sovereignty and ourselves. …"
https://north-shore.info/2019/07/02/gidimten-access-point-solidarity-statement-with-pride-defenders/
---
Outside Hazelton, BC
"free Cedar" and "Fags Fight Fash" written over a Christian Heritage Party election sign.
---
Halifax, Nova Scotia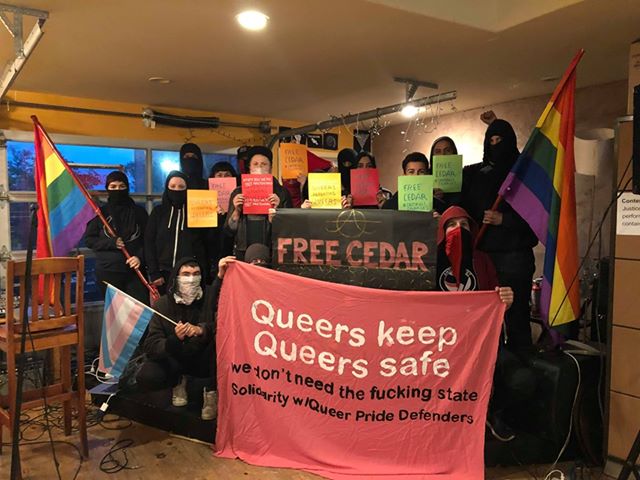 Banners and flags, with love from Halifax.
---
United States
---
Philadelphia, Pennsylvania
Solidarity Graffiti for Cedar
Cedar is a queer anarchist in Hamilton, Ontario accused of defending Pride from far right chumps. To learn more about the repression Cedar and other queers are facing go here: https://north-shore.info/2019/06/25/day-of-action-drop-all-charges-against-pride-defenders/ "
https://phlanticap.noblogs.org/solidarity-graffiti-for-cedar/
---
Minneapolis, Minnesota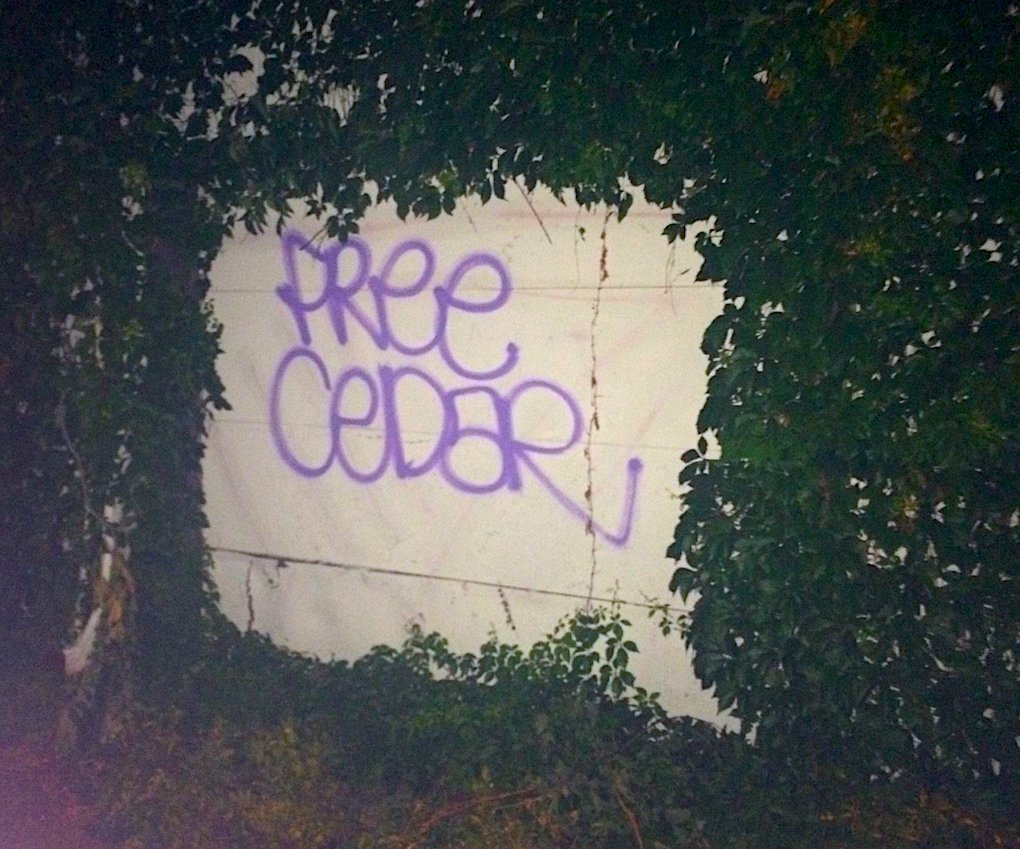 Free Cedar Graffiti In So-Called Minneapolis, USA
From the Communique:
Tonight, in response to the day of action called in response to the repression of rebel queers in Hamilton, a few of us went out of our way to decorate the walls of our city. For us, it was not a question of whether or not to act, but quite simply a question of how to act. …

Free Cedar and all rebel queers.

Forever fuck the pigs.
https://north-shore.info/2019/06/30/free-cedar-graffiti-in-so-called-minneapolis-usa/
---
San-Francisco, California
San Francisco Solidarity Action With Cedar
From the Communique:
We glued the locks of the gentrifying business Manny's and tagged a circle-A and "Free Cedar." Manny's is run by a Democratic Party operative who worked as an LGBT advisor to the Obama administration and as a top fundraiser for the Hillary Clinton campaign in Silicon Valley. His cafe is a blatant and sinister attempt to co-opt revolutionary sentiments back into the electoral shit show. This wanna-be politician is literally selling books by Frantz Fanon and James Baldwin while hosting live readings of the Mueller Report. He had the audacity, in some fluff piece about the cafe, to compare his tacky self-promotion to the riots at Compton's Cafeteria and the Stonewall Inn. He fancies his business as a social center for #TheResistance in a neighborhood which has endured brutal waves of evictions and whose long history of actual resistance has been under threat of erasure. Several of the locks we glued were of gates preventing houseless people from sleeping in the alcoves of the business. We hope this small act highlights the hypocrisy of his "civic engagement".

This attack is a contribution to a low-intensity effort to fuck with Manny's which has included pickets, wheatpasting, and book expropriation. There is an ongoing boycott of the space, but clearly more action is desired.

It is easy to attack!
Free Cedar!
Go!"
https://north-shore.info/2019/06/30/san-francisco-solidarity-action-with-cedar/
---
Seattle, Washington
On Pride weekend in Seattle, we spent the night with you in mind. With love from the PNW.
---
Chicago, Illinois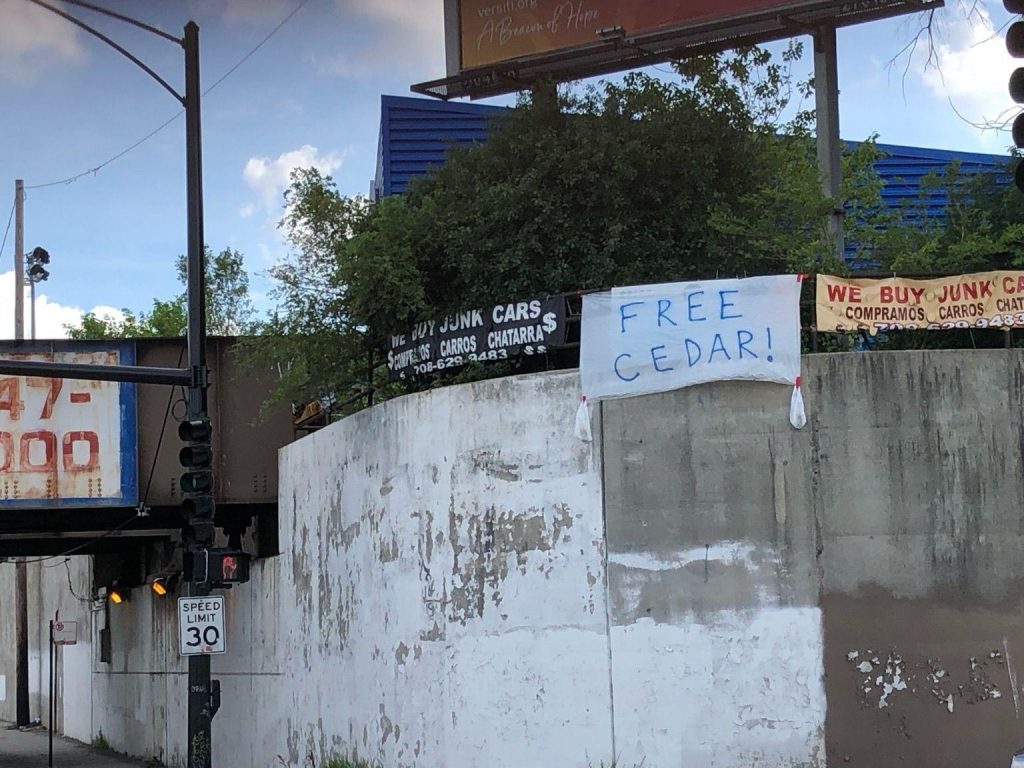 Free Cedar banner hung in Chicago.
---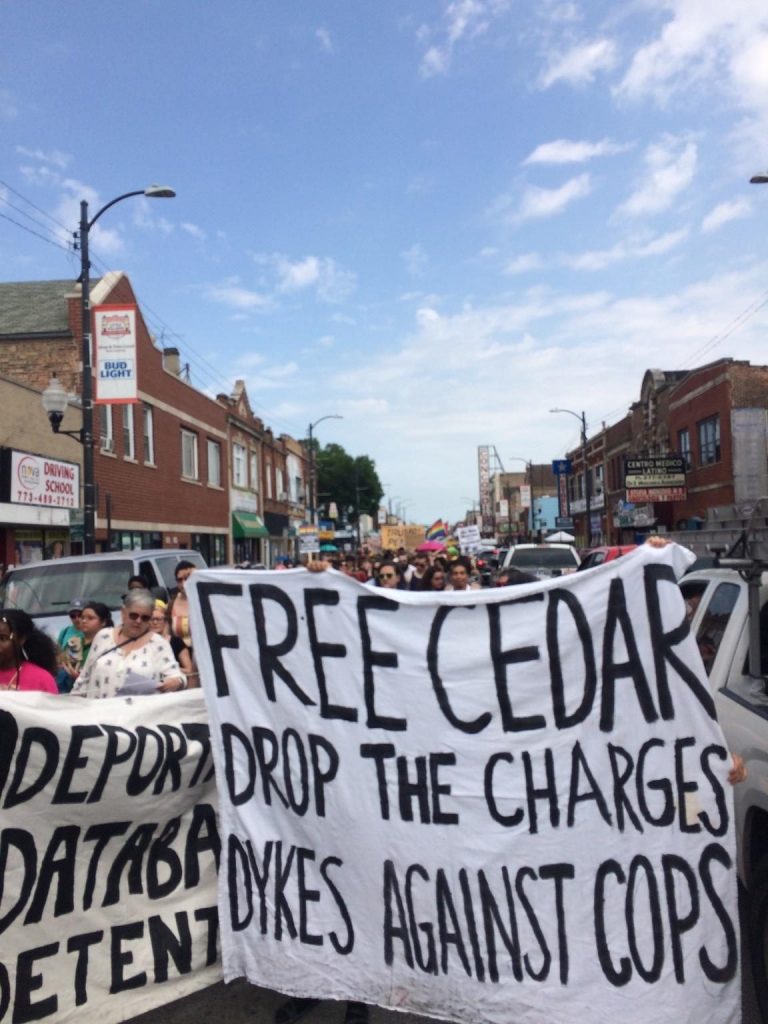 Queers marching in Chicago's Dyke March carried a banner in solidarity with pride defenders and Cedar.
---
Detroit, Michigan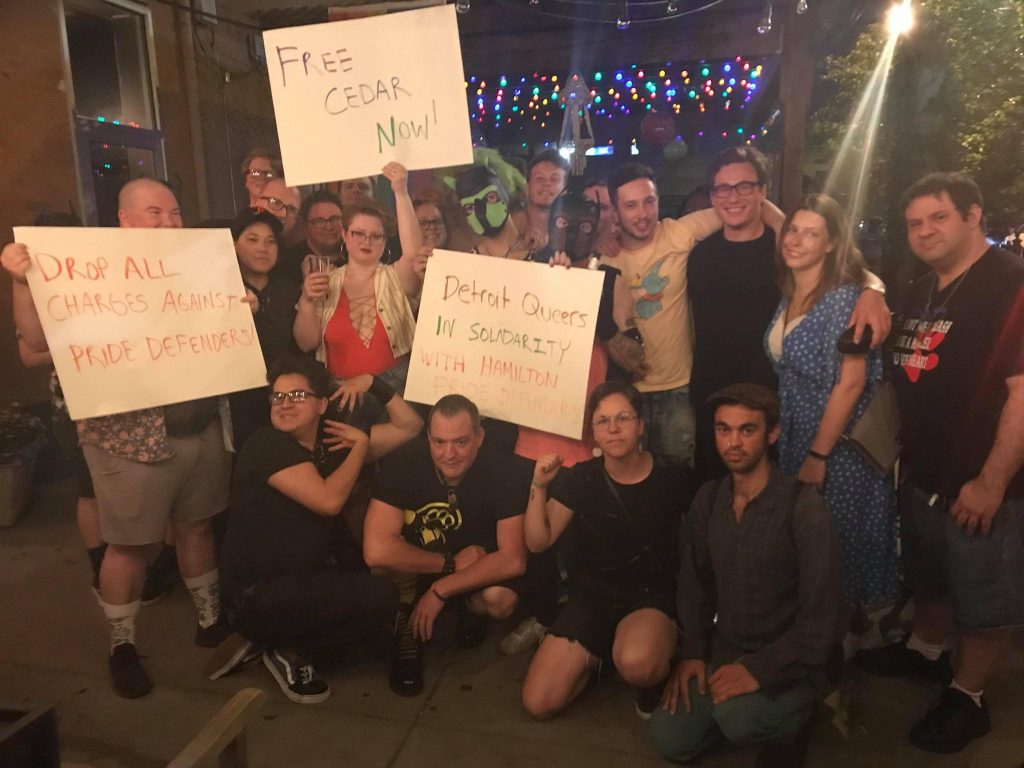 Detroit in solidarity with pride defenders and Cedar.
---
Richmond, Virginia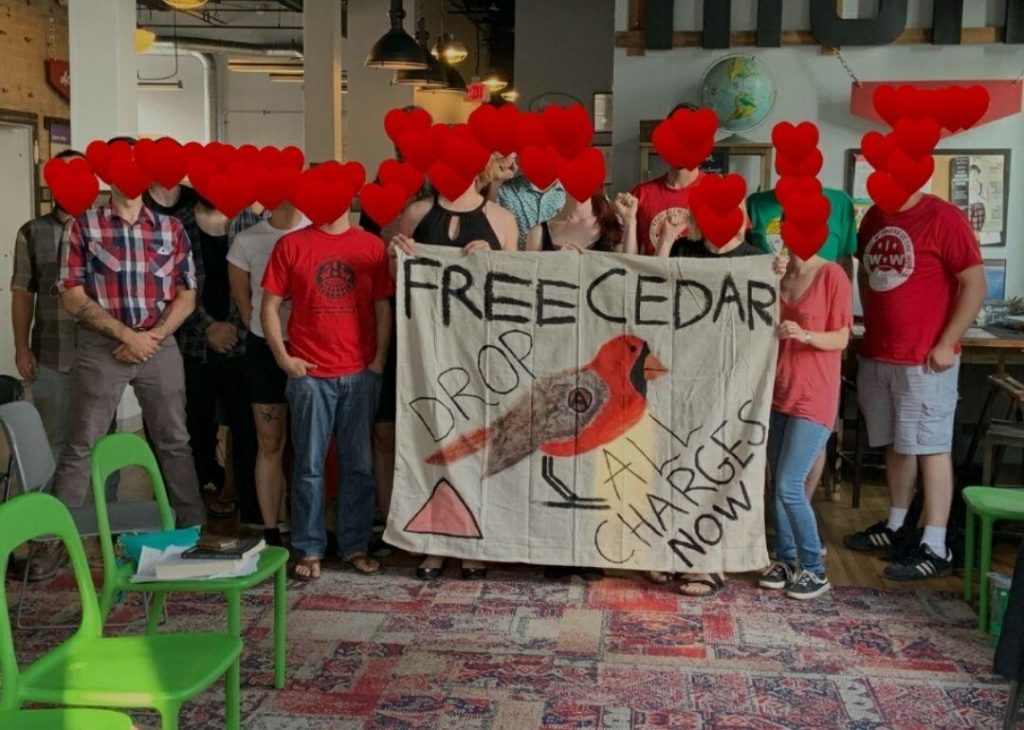 Scuffletown Anti-Repression Committee held a social talking about the situation in Hamilton and made a solidarity banner.
---
Rural Vermont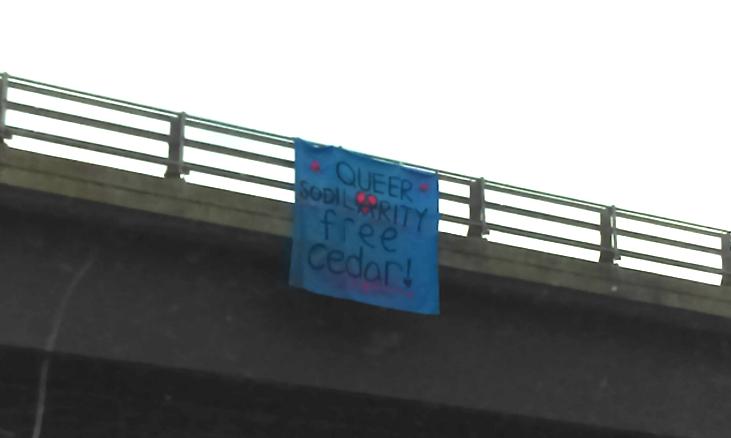 Banner Hung in rural Vermont.
Communique:
https://north-shore.info/2019/07/01/love-and-rage-from-so-called-central-vermont/
---
St. Louis, Missouri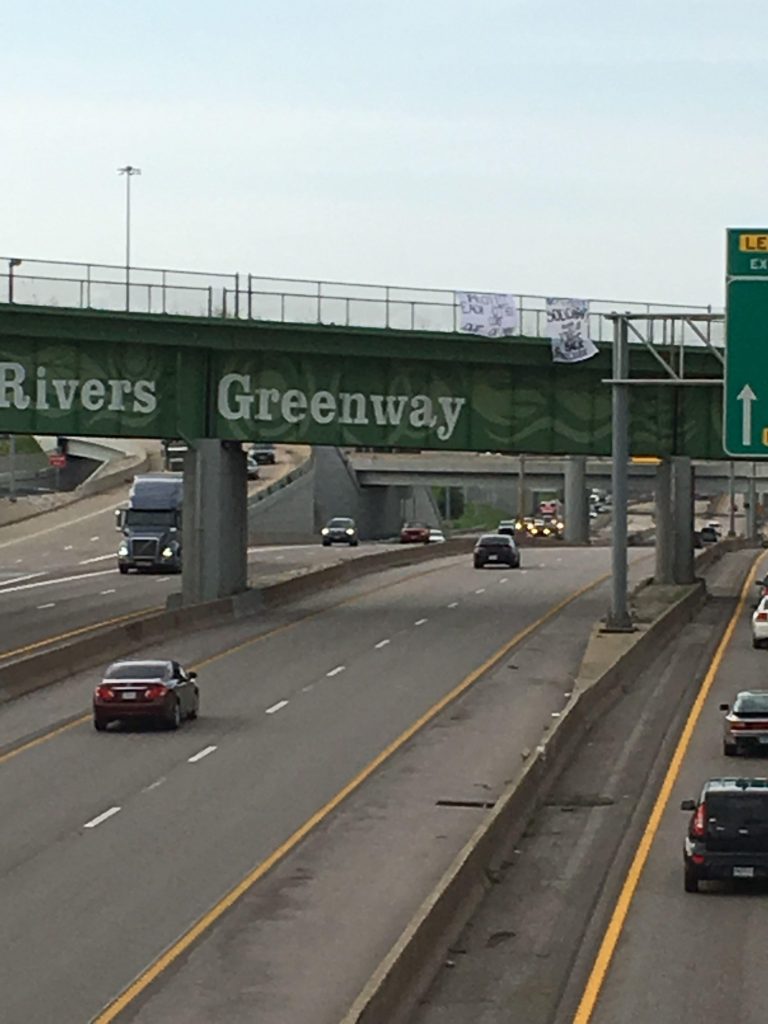 Banner hung off rail bridge in solidarity with Pride defenders.
---
International
---
Berlin, Germany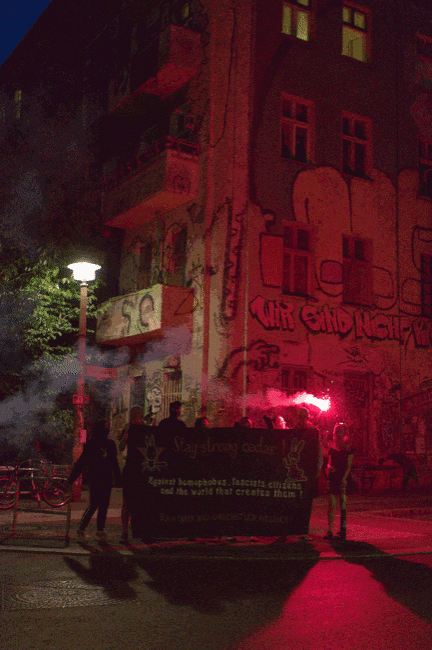 From Berlin to Hamilton: solidarity to our queer comrades facing repression
From the Communique:
On the 50th anniversary of Stonewall and on the Day of Action that was called in support of pride defenders, Hamilton Police have arrested two additional people. That is two more people who have been arrested for fighting back against queer and transphobia, misogyny, and white supremacy. That brings the current total of arrests to five. That's right, five queers who have been targeted, harassed, and arrested.

For all these reasons we decided, on the 28th of june, for the Day of Action in support of pride defenders, to make a banner sending strength to cedar, and to the other queers targeted in Hamilton. All the distance and borders between use are not enough to limit our solidarity with our comrades in KKanada.

Against homophobes, fascists, citizens and the world that creates them!

For a queer and anarchist ultraviolence!"
https://north-shore.info/2019/06/28/from-berlin-to-hamilton-solidarity-to-our-queer-comrades-facing-repression/
---
Manchester, England
As a small contribution to the day of action in solidarity with Cedar and Hamilton Pride defenders, a few posters appeared around the Gay Village in Manchester, England. Manchester's Gay Village is no stranger to police oppression, having suffered in the past under the reign of James Anderton, the police chief nicknamed "God's cop" and known for describing "homosexuals [who] freely engage in sodomy" as "swirling around in the cesspool of their own making" at the height of the AIDS crisis."
---
Helsinki, Finland
We decided to do three small things as a minimal gesture of solidarity towards the people targeted by state repression and far right violence.

The day of action callout text was translated to finnish: https://takku.net/article.php/20190628175820303
We will carry a sign tomorrow on Saturday 29.6. in the pink 'n' black bloc of Helsinki Pride Parade that draws attention to your situation
We will bring up your situation at this support and letter writing event for trans prisoners: https://takku.net/calendar/event.php?eid=20190628085407768

Love and rage
Some finnish anarchists"
---
Rural Scotland
Free Cedar written out in stones in some mountains.
---
Barcelona, Catalonia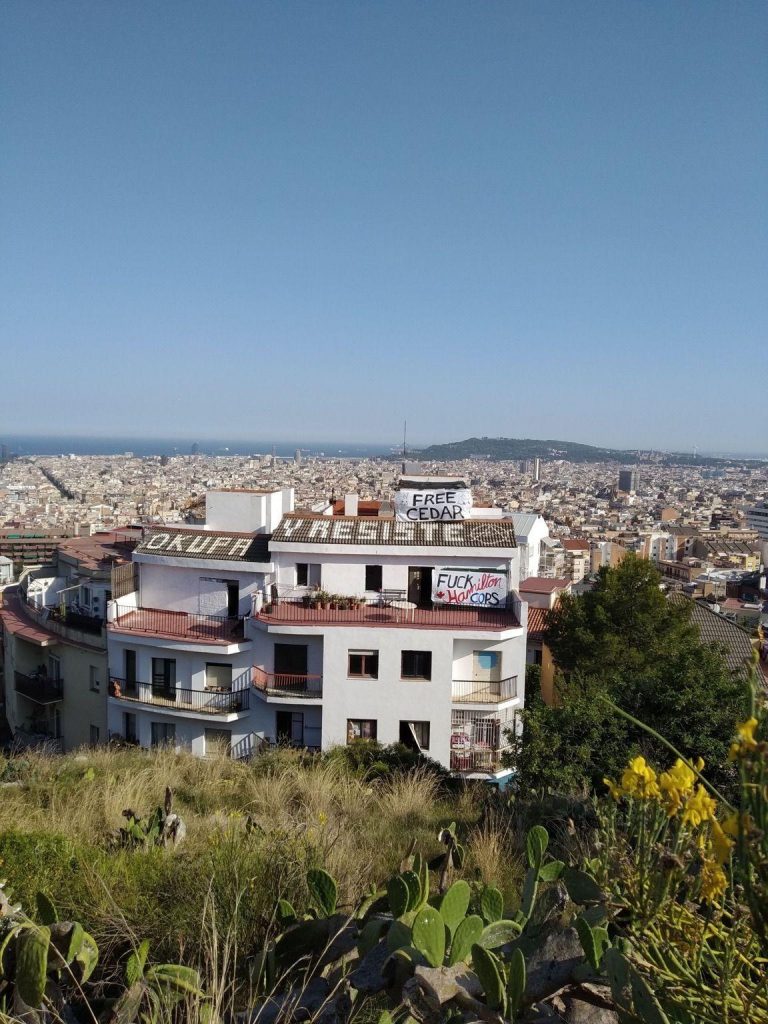 banners hung in solidarity from a squat in Barcelona.