From Canadian Anti-Hate Network
The far-right movement is coming hard for the 2SLGBTQ+ community right now, fueled by the anti-trans narratives of accounts like Libs of Tiktok and white supremacists like Tucker Carlson. They're redoing the lavender scare of the 1950s – in which gay men were portrayed as dangerous pedophiles – and saying the same things about trans and 2SLGBTQ+ people today.
As a result of a growing and dangerous anti-trans narrative and movement, both globally and with significant Canadian elements, all-ages drag events are being targeted. Four of them were protested against this weekend alone, but at every one they were vastly outnumbered by the 2SLGBTQ+ community and allies who drowned them out with chants of "our love is louder than your hate!"
The far-right were outnumbered, outshouted, and out flag-waved in Coquitlam, Peterborough, Sault Ste. Marie, and Calgary. In every case, they were kept away from the event itself. People came from Toronto and as far as Ottawa to join drag defenders in Peterborough.
In Coquitlam, hundreds of gaily dressed drag defenders showed up to protect Conni Smudge's drag story hour by holding a party between the far-right bullies and the library. They were faced by a motley crew of bigots and far-right content creators – maybe 50 in total. One of them brought a large "gays against groomers" sign, an anti-trans hate group banned by Google. All of them were yelling and calling members of the 2SLGBTQ+ community "pedophiles," but they were barely heard over the pop music and the dance party.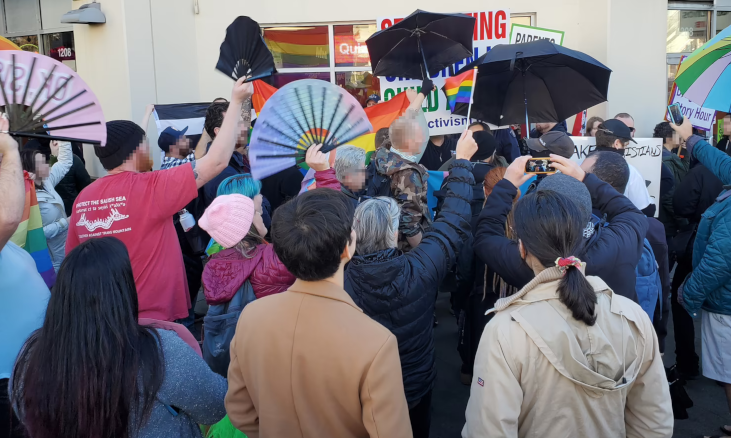 Let's use Coquitlam as an example, and look at why their drag defence counter-demonstration was such a success:
The far-right bullies were massively outnumbered. Eventually confined to the corner of one intersection hundreds of feet away from the door, you could barely hear them or see them. Every one of their signs was covered up by multiple people holding pride flags or signs of their own.
When known far-right instigator Harm Bomm first showed up with a megaphone, which he used throughout to shout "pedophiles" at the crowd, drag defenders in black were quick to get between him and the crowd and move him back. Throughout the event, Bomm and other bullies would try to outflank or push through the counter-demonstrators in black to get to confront people in the crowd. Every time they were pushed, these defenders held the line. This kept the event safe for everyone else.
The drag defenders had a much better time. Not only community defence, it was a party and an expression of solidarity and love. Young families came and people got to know one another. Even more people will probably come out next time.
A big thank you from the Canadian Anti-Hate Network to everybody that showed up at all the events. Our love is louder than their hate!